Lemon-Raspberry Thumbprint Cookies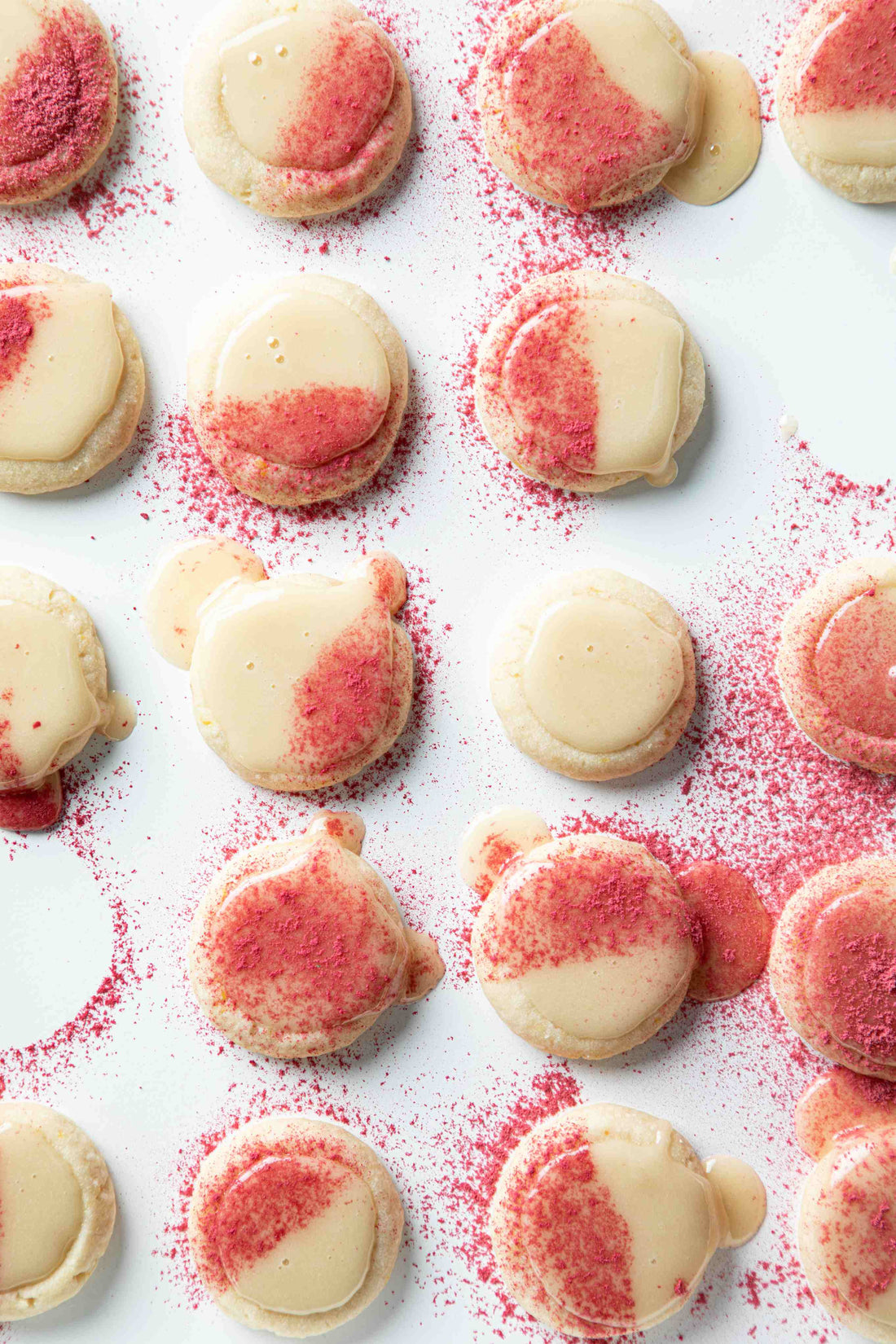 These tender little cookies are the perfect way to celebrate spring and summer. We make a traditional thumbprint cookie (great for getting the kids involved) and fill the centers with our lemon-kissed whipped honey. Top with freeze-dried raspberry dust or a fresh raspberry, and you've got a gorgeous little dessert ready for any occasion.
Lemon-Raspberry Thumbprint Cookies
(lemony cookies filled with whipped lemon honey)
Serves 16
What you need:
½ cup salted butter, softened
1/3 cup sugar
1 large egg yolk
1 teaspoon lemon zest
½ teaspoon vanilla extract
1¼ cups all-purpose flour
1 teaspoon cornstarch
1/3 cup Savannah Bee Company® Whipped Honey with Lemon
1 (1-ounce) package freeze-dried raspberries, processed into a powder or 16 fresh raspberries

What to do:
1. Wash Up!
2. Make the Dough: Beat the butter and sugar at medium speed until light and fluffy. Add the egg yolk, lemon zest, and vanilla and beat until smooth. Combine the flour and cornstarch. Add to the butter mixture and beat until a dough forms.
3. Shape the Dough: Roll the dough into balls, about 1 tablespoon each and place on a parchment paper-lined baking sheet. (Be sure the balls are very smooth to prevent cracks.) Use a 1 teaspoon measure to make indentions in the center of each dough ball. Freeze the dough for 30 minutes.
4. Bake the Cookies: Preheat the oven to 350°F. Bake the cookies for 12 to 14 minutes or until the bottoms are golden and the cookies are set. Remove to wire racks to cool completely.
5. Fill the Cookies: Spoon about 1 teaspoon of whipped honey into the centers of each cooled cookie.
To Serve: Dust with powdered raspberries or place a raspberry in the center of each cookie before serving.
#savethebees
Regular price

Sale price

$18.00

Unit price

per