Lemon Herb Couscous Salad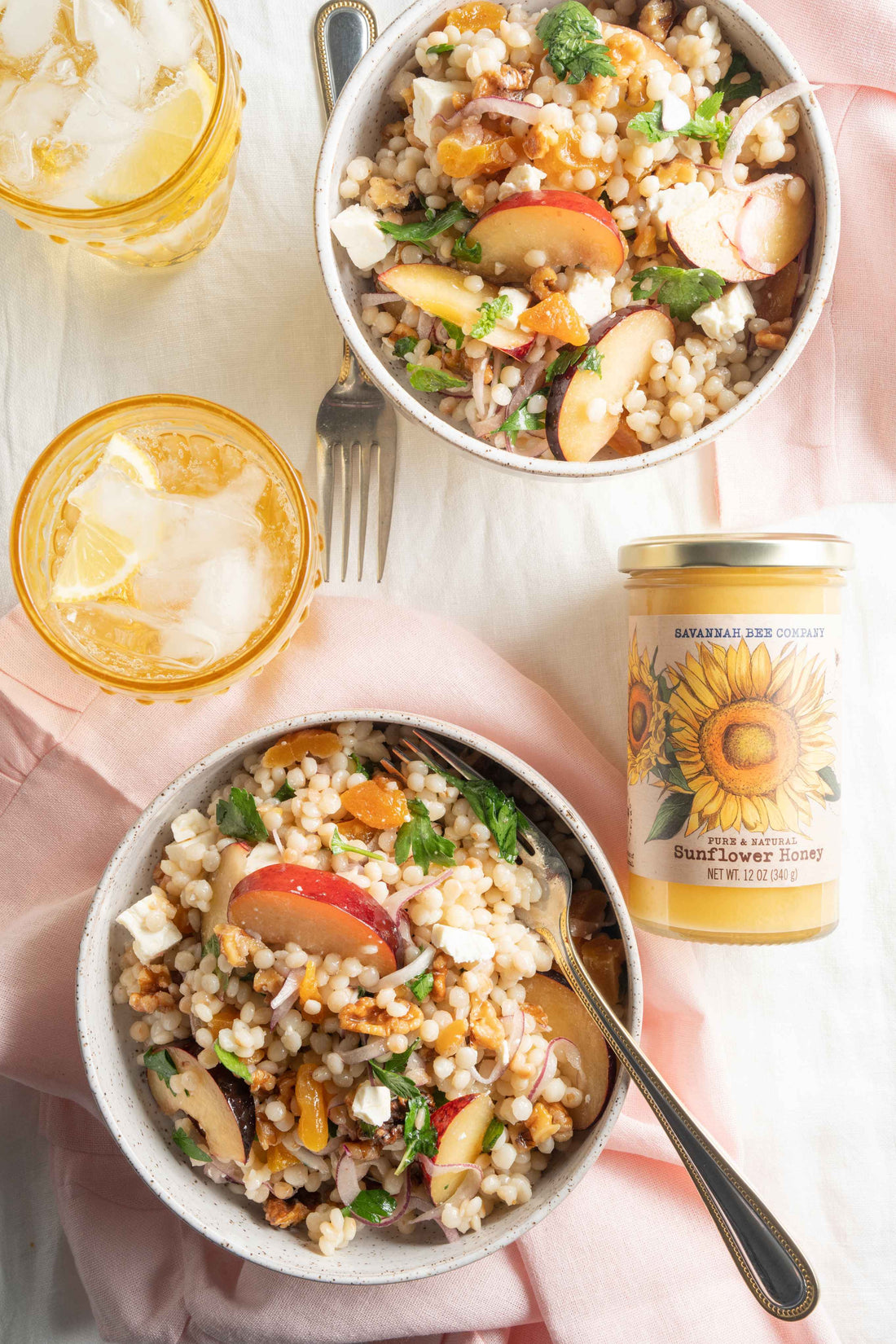 Looking for an easy meatless meal? Look no further with this delicious Israeli couscous salad, packed with Mediterranean flavors and a simple sunflower honey dressing. You can also serve this as a quick side dish.
Lemon Herb Couscous Salad
(Israeli couscous, plums, feta, dried apricots + sunflower honey dressing)
Serves 4 to 6  
What You Need:
For the couscous salad:
1 tablespoon olive oil
1½ cups dry Israeli couscous
2¼ cups water
½ teaspoon salt
2 plums, pitted and sliced or 1½ cups halved pitted cherries
½ chopped dried apricots
½ cup chopped walnuts, toasted
½ cup thinly sliced red onion
¼ cup chopped fresh flat-leaf parsley
2 tablespoons chopped fresh mint
½ cup crumbled feta cheese

For the dressing:
¼ cup extra-virgin olive oil
2 tablespoons Savannah Bee Company Sunflower Honey or use your favorite Savannah Bee Company Honey
2 tablespoons lemon juice
2 teaspoons Dijon mustard
½ teaspoon kosher salt
¼ teaspoon freshly ground pepper

What to Do:
1. Wash Up!

2. Cook the couscous: Heat the oil in a medium saucepan over medium-high heat. Add the couscous and cook 1 minute, until toasted. Add the water and salt. Bring to a boil. Cover, reduce the heat and simmer for 8 minutes or until the liquid is absorbed. Remove the couscous from the pan to a bowl and let cool completely.

3. Make the dressing: Whisk together the extra-virgin olives oil, honey, lemon juice, mustard, salt, and pepper in a small bowl

4. Assemble the salad: Combine the cooled couscous, plums or cherries, apricots, walnuts, onion, parsley, mint, and feta in a serving bowl. Pour the dressing over the top and toss gently to coat.

To Serve: Divide the salad evenly between serving plates.

Pro Tip: Don't have plums? Substitute peaches, pears or apples.


#savethebees
Regular price

Sale price

$22.00

Unit price

per