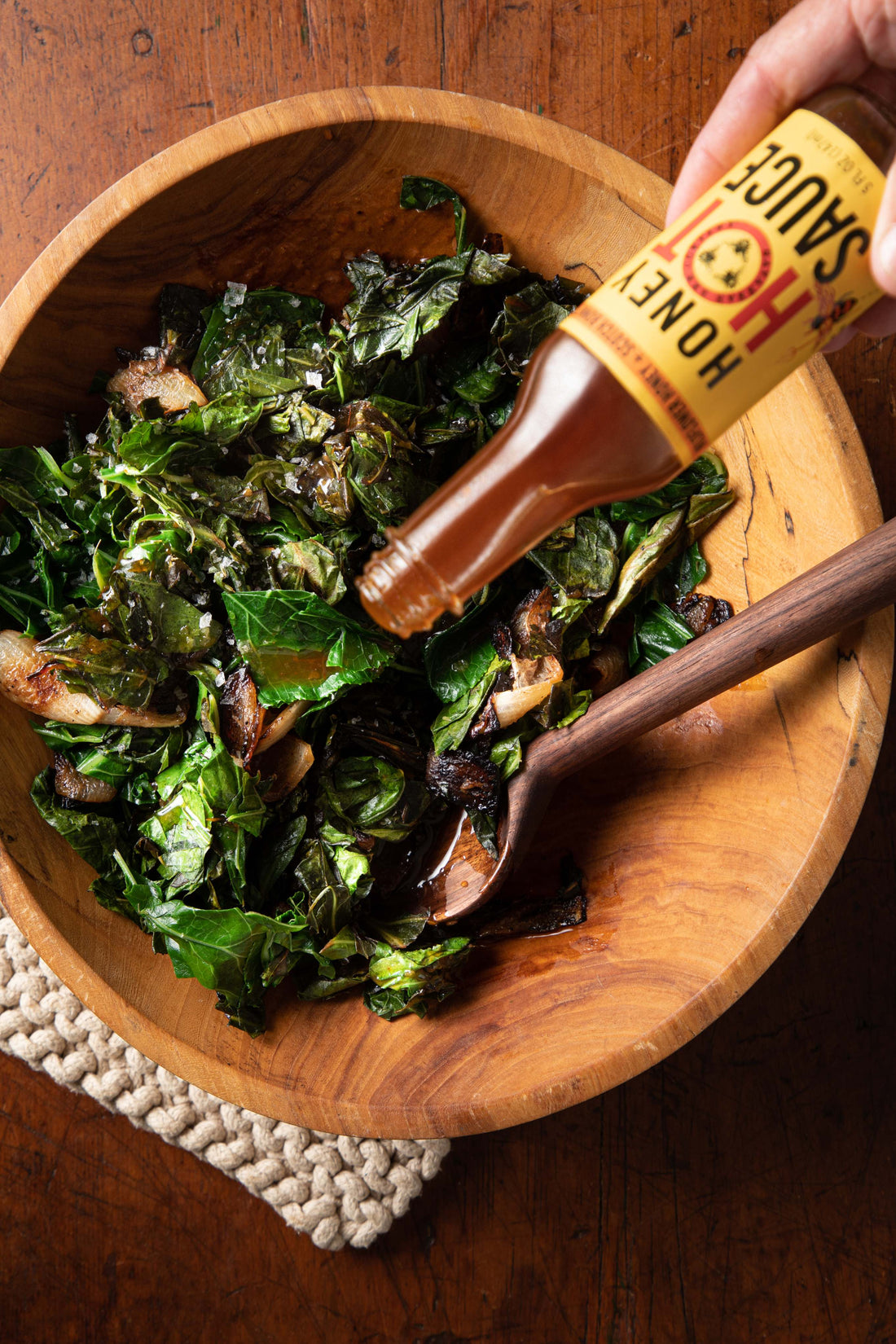 Lucky for New Year's Day and every day when fresh collards are available. 
Hot Money Collards
(fresh collards, caramelized onion + honey hot sauce)
Serves 6-8
What you need:
1 large bunch collard leaves, stem removed and roughly torn or chopped
1 onion, rough chopped
2 tablespoons unsalted butter
2 tablespoons avocado oil
1 teaspoon salt, divided
1 teaspoon pepper, divided
1/4 teaspoon smoked paprika
1/4 teaspoon garlic powder
2 tablespoons or more as desired Savannah Bee Company® Honey Hot Sauce
What to do:
1. Wash Up!
2. Caramelize the Onion: Slow but steady wins the race! Melt the butter in a medium skillet over medium heat. Add in onion, 1/2 teaspoon salt and 1/2 teaspoon pepper. Toss to coat. Cook over medium heat about 15- 20 minutes, turning occasionally to avoid burning. Onions should be caramel-brown and soft. Remove from the skillet and set aside.

3. Sauté the Collards: To the same skillet over medium heat, add avocado oil, collards, remaining salt, pepper, paprika, and garlic powder. Cook, stirring, until wilted (about 2-3 minutes). Add the caramelized onions back in and stir to combine.

Clear the air!
#savethebees
Regular price

$15.00 USD

Sale price

$15.00 USD

Unit price

per