Easy Lemon Phyllo Roll Dessert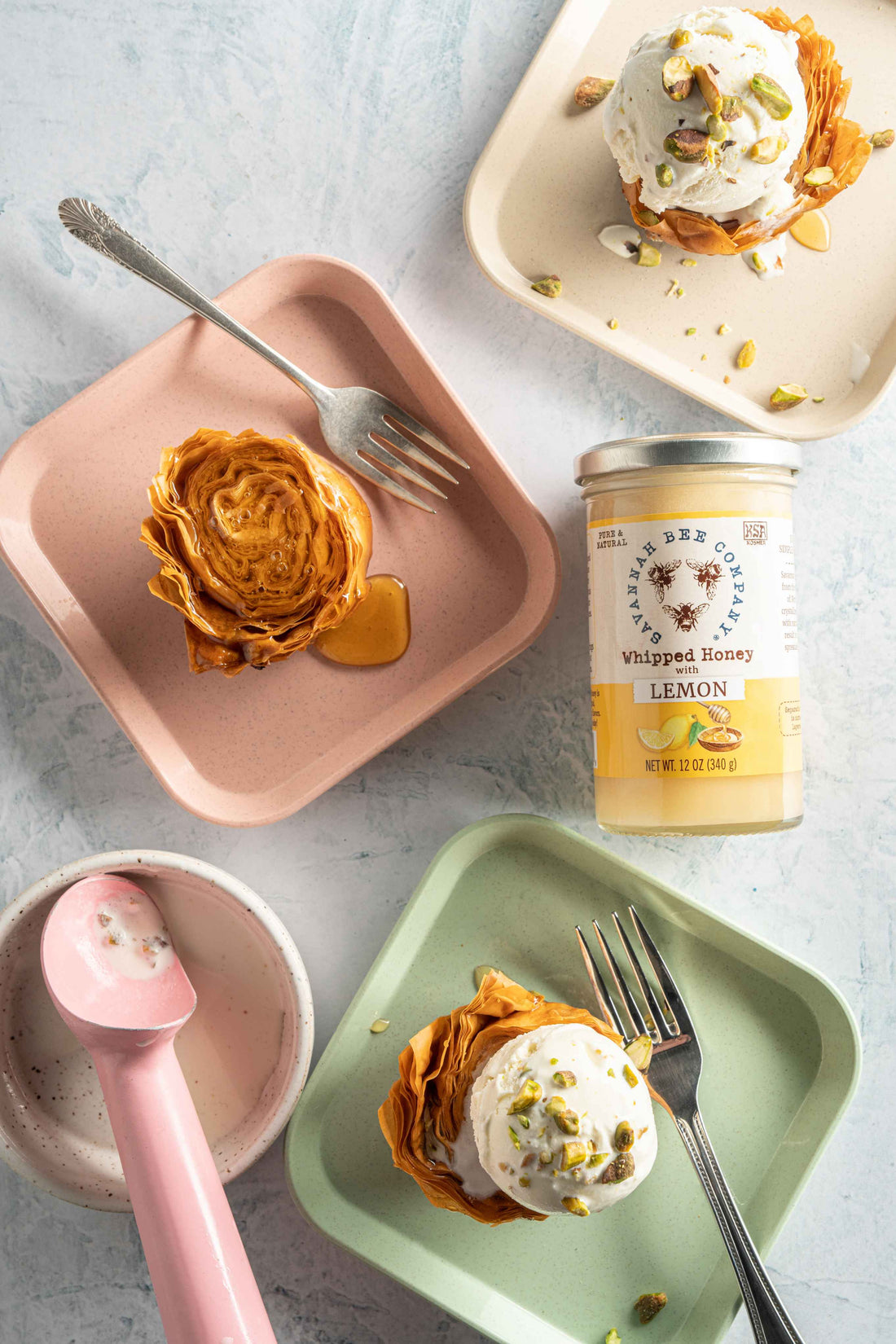 If baklava was served at a Michelin star restaurant, it would look like this. But it would be miles easier to make! Beautifully crisp phyllo dough, salty pistachios and sweet ice cream.
Easy Lemon Phyllo Roll Dessert
(phyllo dough, ice cream, chopped pistachio + lemon whipped honey)
Makes 8          
What you need:
1/2 (16oz) package of phyllo dough, defrosted
1 cup chopped nuts (we used lightly salted pistachios and natural walnuts)
1/2 cup (1 stick) butter, melted
1 cup
Savannah Bee Company® Lemon Whipped Honey
1/3 cup water
1 tsp lemon zest
1 teaspoon vanilla extract
Your favorite ice cream (we used pistachio) 
What to do:
Preheat oven to 350ºF. Butter the bottoms and sides of 8 muffin tins.
Roll the phyllo: Unroll phyllo dough and fluff the layers so that they are not so precisely layered together. Very loosely roll the dough into a log. Slice into about 8 2-inch pieces and transfer each slice into its own individual muffin tin.
Cook the phyllo: Immediately before cooking, distribute melted butter evenly between rolls. Place in the oven and bake for roughly 1 hour until golden brown.
Make the Sauce: Bring honey and water to a simmer until honey is dissolved. Add vanilla and lemon zest and allow to simmer for roughly 20 minutes.
Finish the Phyllo rolls: After removing the baklava from the oven, immediately spoon and pour the sauce over the baklava. It will sizzle and pop. That's ok!
To Serve: Let cool and serve with a scoop of pistachio ice cream, a drizzle of lemon honey, and chopped pistachio.
#savethebees
Regular price

Sale price

$18.00

Unit price

per