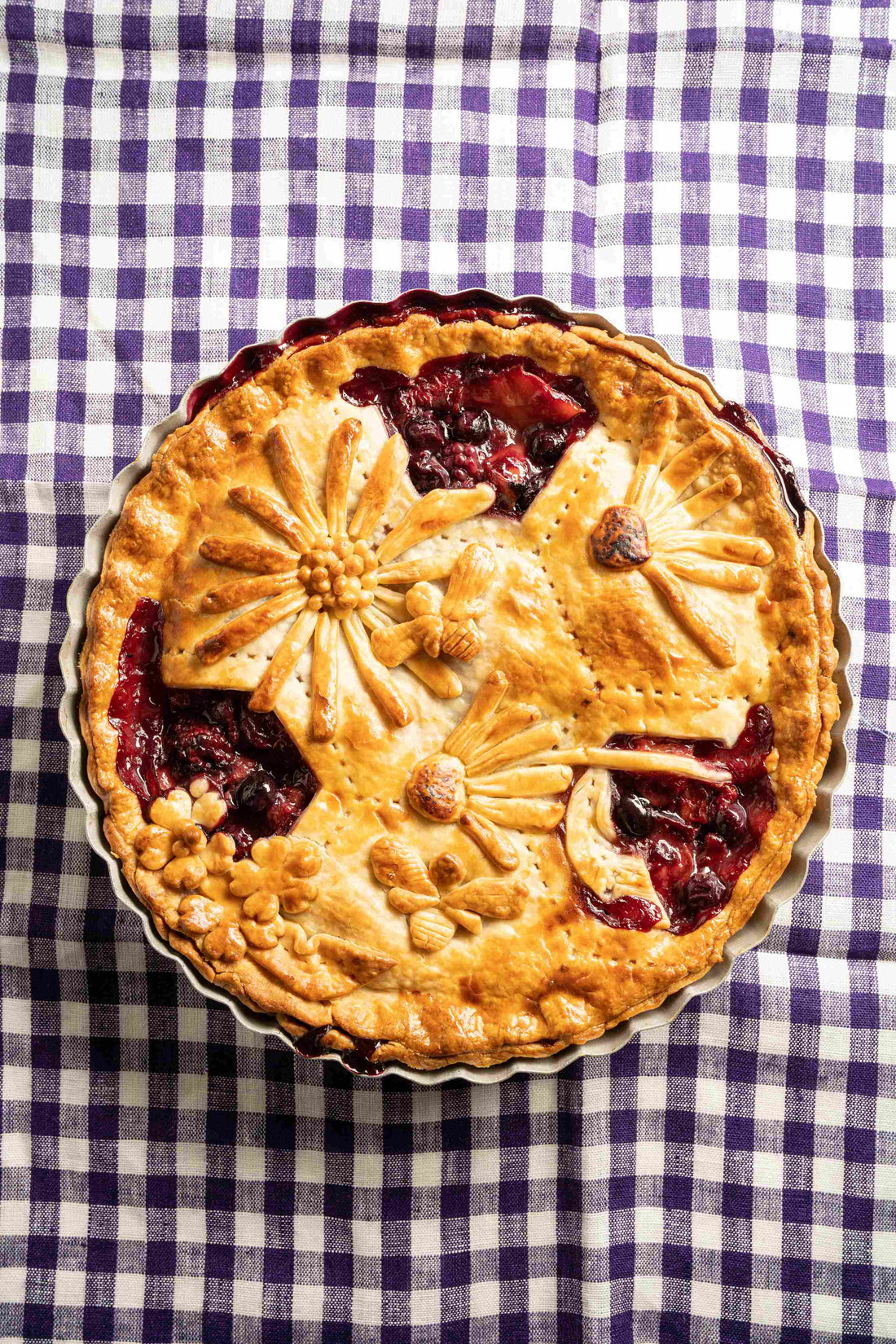 Is our fresh Peach Berry Pie (aka Pollinator Pie) decoration a little extra? No, it's perfect. Bees deserve the best. It's easy to make flower decorations with dough. Learn what to do in our recipe.
Peach Berry Pie
(fresh berries, peaches + honey)
Makes 1 (9") Pie
What you need:
2 fresh peaches, sliced (skins can stay on)
2 cups fresh blueberries, thoroughly washed and dried
2 cups sliced fresh strawberries
Juice of 1/2 orange
1/2 teaspoon cinnamon
1/4 cup your favorite 
Savannah Bee Company® Honey
1 (14.1 ounce) package prepared pie dough (2 pie dough rounds)
Egg wash:
Whisk together 1 egg yolk and 1 tablespoon water.
What to do:1.
Wash Up!
2.
Preheat the oven to 450º F.
3. Make the filling:
In a large sauce pan over medium-low heat combine peaches, blueberries strawberries, orange juice, and cinnamon. Add honey and stir to combine. Cook for 10-15 minutes on medium to soften and reduce slightly. Cool 10 minutes.
4. Start the pie decoration:
While the filling is cooling, unroll one of the pie doughs sheets and use it to line your pie pan. If you want to be as extra as us, cut two to three hex shapes into the second dough. Use cookie cutters to shape bees, flower petals and leaves out of the scraps from the hex shapes you cut from the second dough.
5. Finish the pie:
Spoon the cooled fruit filling into the pie pan and brush egg wash around the edge of the pie crust (this will help seal the top and bottom dough together). Lay the top pie dough over fruit and crimp the edges. Decorate the top of the pie using the flowers and bees you cut out and the egg wash as a "glue". NOTE: If you were tight on time and used a full sheet of dough to cover the fruit filling, make sure to poke two or more holes in the dough to allow steam to escape. Bake pie for 15 minutes, remove and egg wash entire top of dough and edges well. Continue cooking until top is golden brown (about 10-15 more minutes).
To serve:
Serve warm with Greek yogurt, fresh whipped cream or ice cream!
Pro Tip! We accidentally bought a prepared dough that is designed to be put into muffin cups, but by a happy accident the dough had hexagons perforated into the dough! We buzzed through the decoration of this pie by using the hexes to our advantage!
#savethebees
Regular price

Sale price

$29.00

Unit price

per