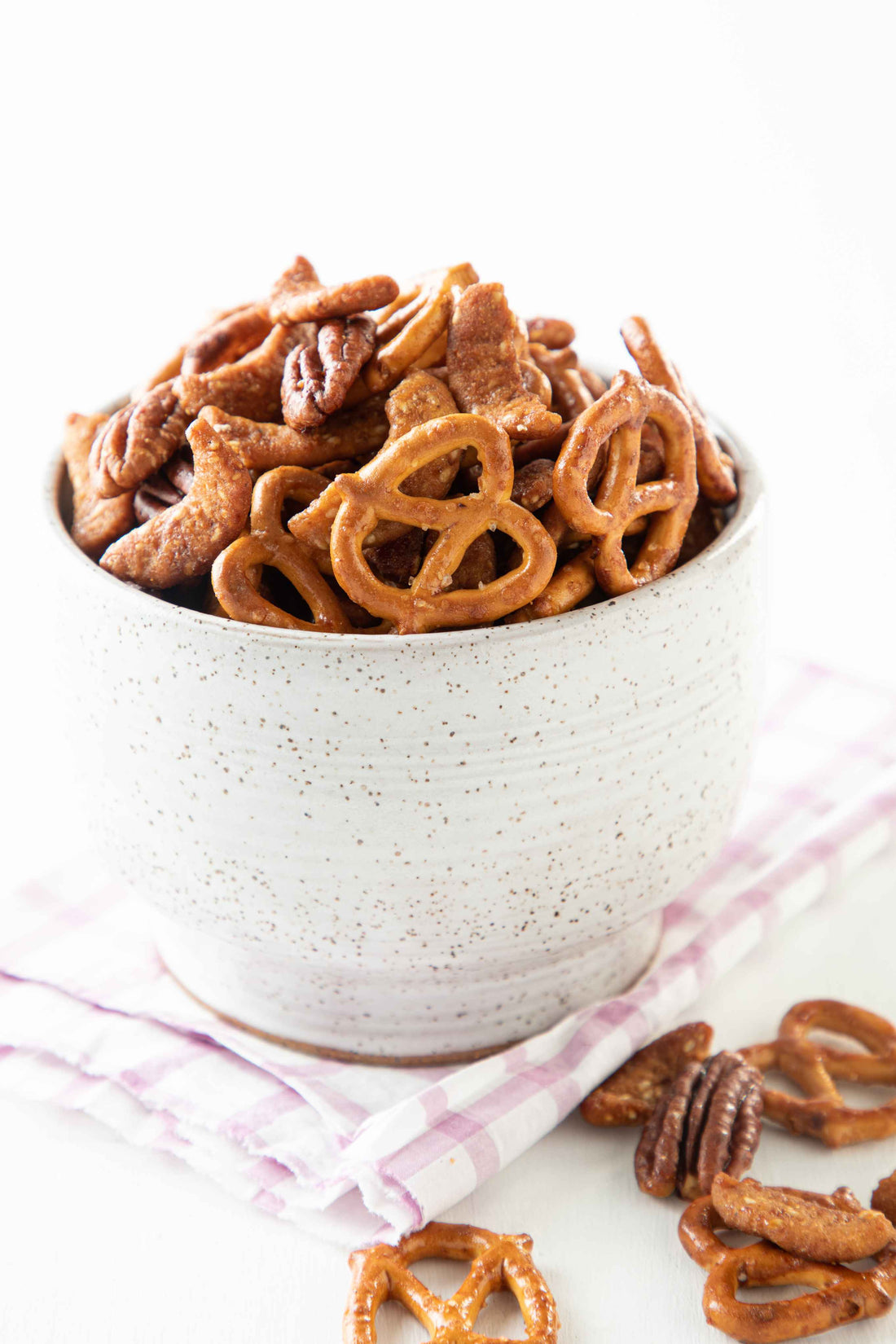 Crunch, spice and heat –the perfect kind of snackity snack snack mix you'll be making again and again.
Hot Honey Snack Mix
(salty pretzels, hot honey + peanuts)
Makes 10 cups
What you need:
½ cup Savannah Bee Company® Hot Honey
¼ cup butter
1/3 cup tamari
4 cups small pretzel twists
4 cups sesame sticks
2 cups pecan halves or unsalted roasted peanuts

What to do:
1. Wash Up!
2. Preheat oven to 275º F. Line 3 baking sheets with parchment paper and set aside.

3. Make Hot Honey Mixture: In a small saucepan over low heat, add the hot honey, butter and tamari. Cook stirring until butter and honey have melted together. Check for taste. Add more hot honey if needed for a little extra kick.

4. Mix Snack Mix: In a super large bowl, add the pretzels, sesame sticks and roasted peanuts and toss. Pour hot honey mixture over and toss to coat.

5. Finish Snack Mix: Spread mix onto the three baking sheets being sure not to crowd. Bake for 15 minutes, remove from oven and give a stir. Continue baking and stirring (being careful not to allow it to burn) every 15 minutes until mixture is crisped (about 45 minutes).

To Serve: Allow mixture to cool completely before serving. Can be stored in an airtight container and enjoyed for up to a week…trust us, it won't last that long.
Still hungry?
Check out these other Honey Powered Snack Recipes! 
#savethebees
Regular price

Sale price

$18.00

Unit price

per