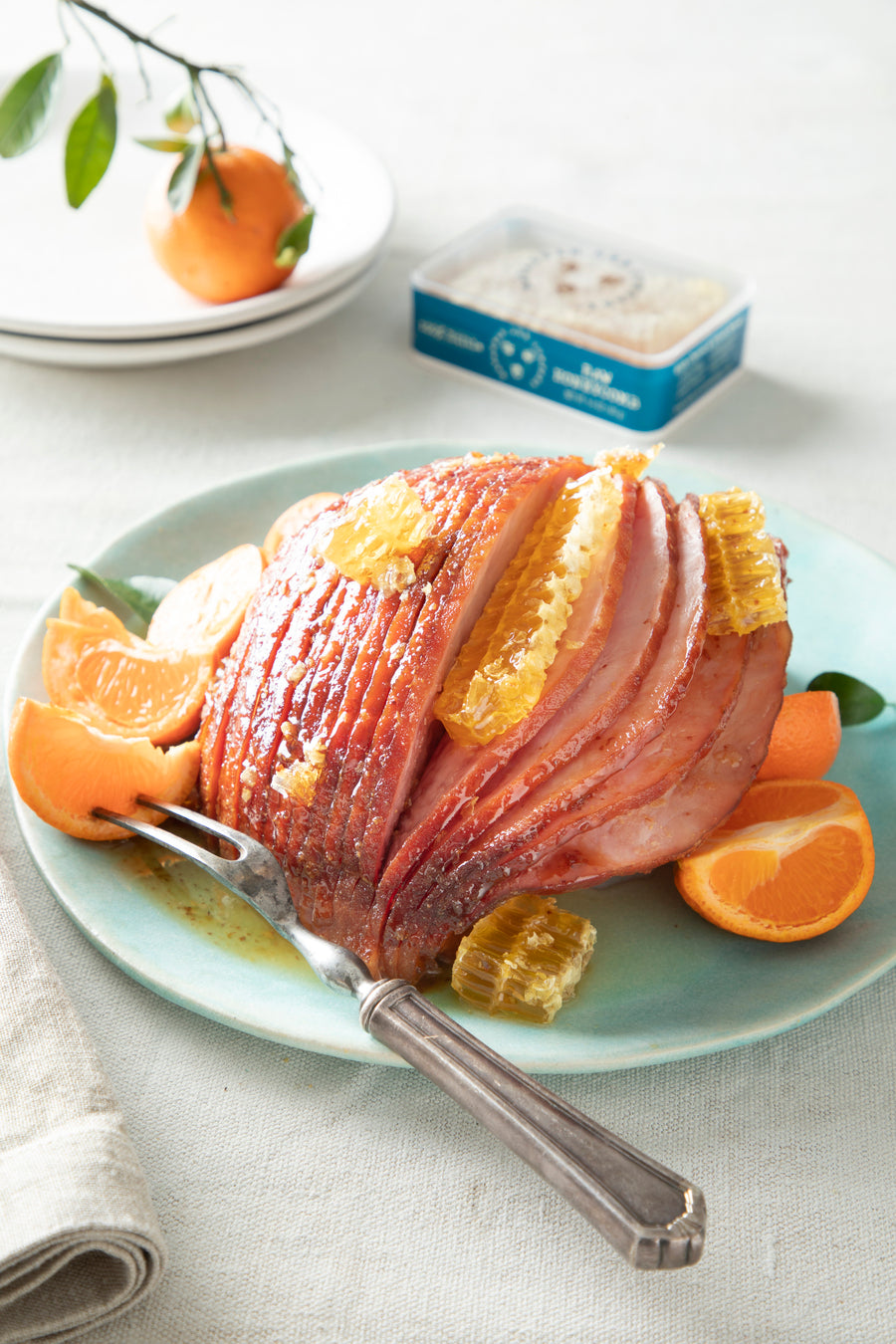 This festive glazed ham will be the star of the holiday table. A sweet honey, marmalade, and mustard glaze creates a luscious crust on the salty ham and chunks of raw honeycomb dress it up for the occasion. Perfect for Easter, served with rolls or honey biscuits for brunch, or on a bridal shower/baby shower buffet. 
Honeycomb Baked Ham
(glazed honey ham shingled with honeycomb)
Serves 8 to 12
What you need:
1 (8-lb) fully cooked spiral-cut bone-in ham
½ cup Savannah Bee Company® Sourwood Honey, or your favorite Savannah Bee Company® honey
½ cup firmly packed brown sugar
½ cup orange marmalade
½ cup Dijon mustard
Savannah Bee Company® Raw Honeycomb and clementines for garnish
What to do:
1. Wash Up!
2. Prep the Ham: Preheat the oven to 350°F. Place the ham, flat side down, on a rack in a roasting pan lined with aluminum foil. Set aside.
3. Make the Honey Glaze: Combine the honey, brown sugar, marmalade, and Dijon mustard in a medium saucepan. Bring to a simmer and cook for 2 minutes.
4. Bake the Ham: Pour half of the glaze over the ham. Cover with aluminum foil and bake for 1 hour. (Add a little water to the bottom of the pan if the drippings begin to burn.) Uncover the ham and pour the remaining glaze over the top. Bake for another 30 minutes or until a thermometer inserted in the center registers 140°F.
To Serve: Transfer the ham to a serving platter and garnish with honeycomb (in between the slices) and clementines.
#savethebees
Regular price

Sale price

$19.00 USD

Unit price

per