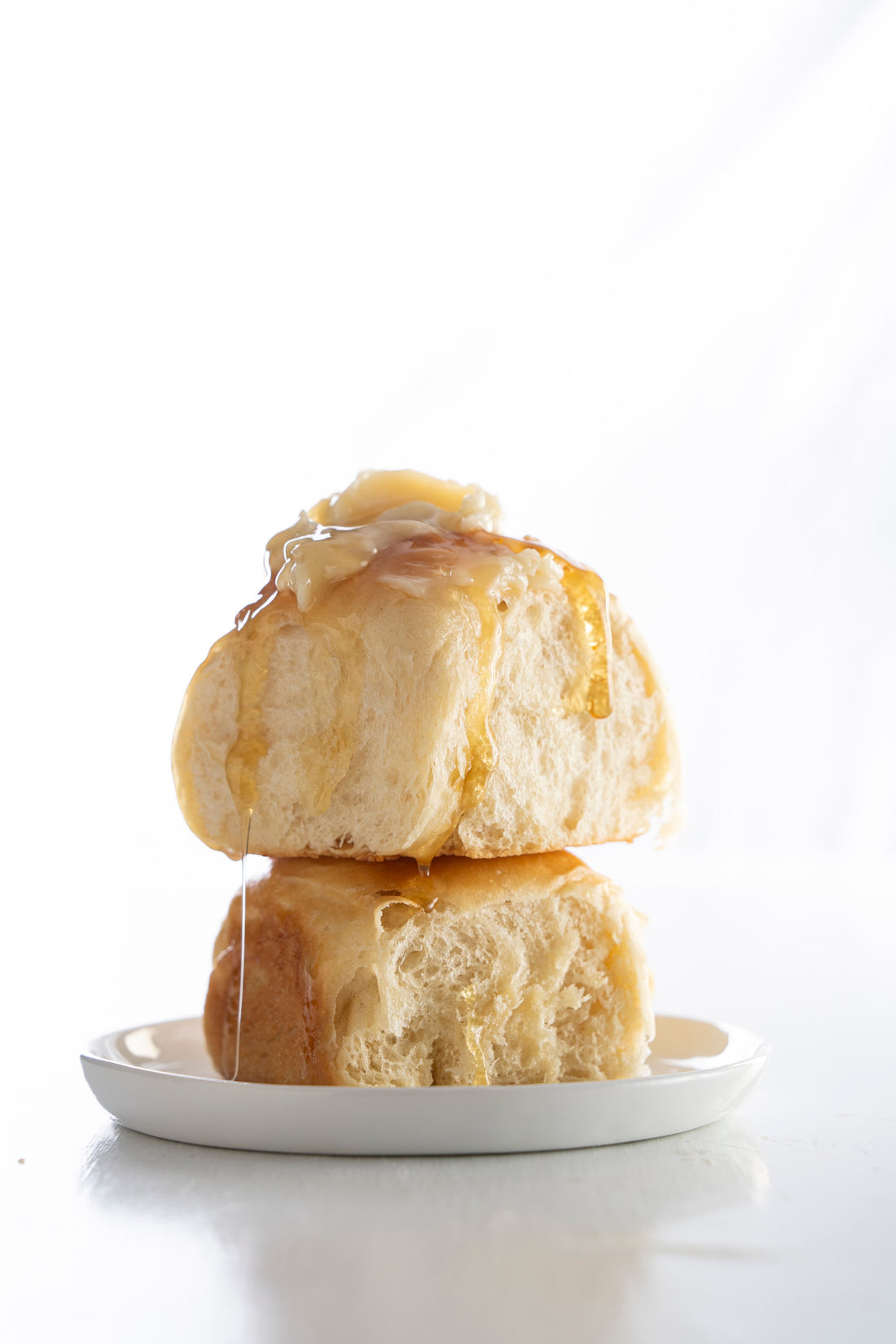 Soft rolls flavored with beer and honey slathered in honey butter to pass around your table. The perfect holiday roll.
Honey Beer Bread Rolls
(butter, beer + honey)
Makes 12
What you need:
Starter
2 ½ tablespoons bread flour
¼ cup beer
¼ cup milk
Dough
2 ½ cups bread flour
1 packet or 2 teaspoons instant yeast
1 teaspoon salt
3 tablespoons Savannah Bee Company Orange Blossom Honey or your favorite Savannah Bee Company Honey
¼ cup milk
¼ cup beer
1 egg, room temperature
4 tablespoons unsalted butter, cubed at room temperature
Honey Butter
1 cup good quality butter, room temperature
½ cup Savannah Bee Company Orange Blossom Honey or your favorite Savannah Bee Company Honey
¼ teaspoon salt
What to do:
1. Wash Up!
2. Spray a 9" x 13" pan and a large bowl with cooking spray.

3. Make the Starter: In a small sauce pot, add flour, milk, beer and whisk. Over medium heat and cook for 2-3 minutes, stirring constantly.

3. Make the Dough: Warm up milk slightly and set aside. In a stand mixer bowl, using a dough hook, combine flour, yeast and salt. Mix to combine. Add warm milk, honey, beer, starter and egg to the bowl. Mix on low and knead for 5 minutes. Add softened butter to the dough and knead for 10-12 minutes. Start on medium low and increase to medium speed. The dough should be smooth and elastic. Shape the dough into a ball and place in a greased bowl. Cover the bowl with plastic wrap and let it rise for 40-60 minutes, until it has doubled in size. Uncover the bowl and punch down the dough. Turn dough out onto a smooth surface, lightly floured. Divide dough into 12 equal pieces. Roll each piece of dough into a ball and place in your prepared pan seam side down. You should have 3 rolls across and 4 rolls down. Cover the pan with plastic wrap and let the rolls rise again for 30 to 40 minutes.

4. Bake Rolls: Preheat oven to 350° F. Brush the tops lightly with milk and bake for 20 minutes until golden brown, rotating the pan halfway through.

5. Make Honey Butter: While the rolls are baking, with a hand mixer whip butter until fluffy. Add honey and salt and continue to beat until completely mixed through.

To Serve: Serve warm with additional honey butter to pass at the table.

Pro Tip: Pull the butter out of the refrigerator when you start your dough. It will be the perfectly temperature to whip up the honey butter with when you are ready.

Table Talk: How many languages can you say hello in?
#savethebees
Regular price

Sale price

$17.00

Unit price

per