Classic Charcuterie Board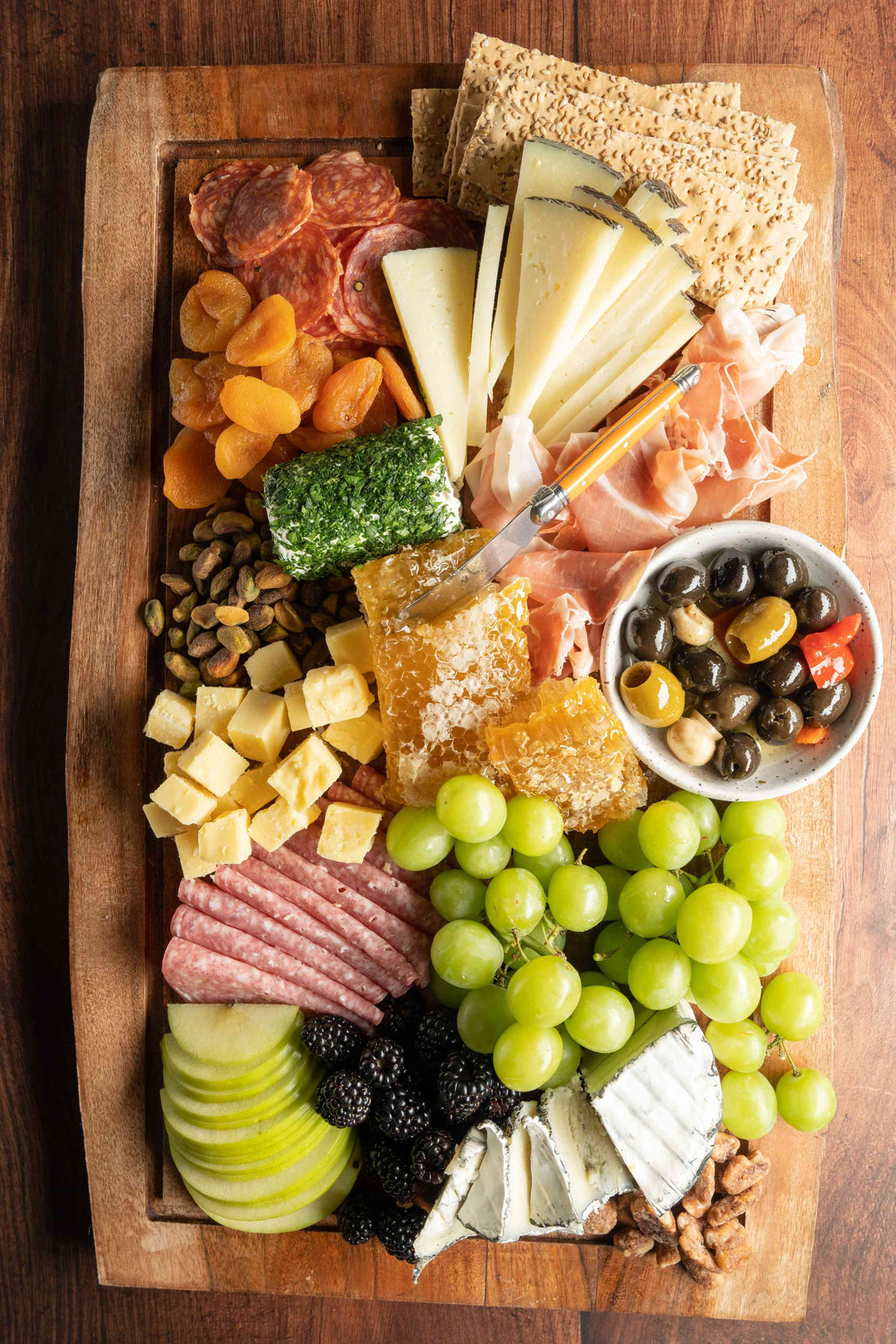 Step one, place a block of raw honeycomb in the center of your board!
What else should be on a charcuterie board? We love a variety of meats, cheeses, fruit, olives, and nuts. Follow our easy steps for creating the perfect charcuterie board.
Classic Charcuterie Board
(cured meats, cheese, fruit, nuts, crackers + honeycomb)
Serves 6 to 8
 
What You Need:
1 package Savannah Bee Company Raw Honeycomb
1 cup mixed olives
1 cup roasted, salted pistachios
1 cup candied pecans
1 package Genoa salami
1 Calabrese salami, sliced
1 package prosciutto di Parma
1 (3.5-ounce) log herb-crusted goat cheese
1 block Manchego cheese, cut into triangles
1 wedge Humboldt Fog cheese
1 block Cheddar cheese, cubed
1 package blackberries
1 apple, sliced
1 bunch seedless green grapes
½ cup dried apricots
Crackers
Flowering Herbs for garnish, optional

What to Do:
1. Wash Up!

Create The Charcuterie Board:
Step 1: Place the honeycomb in the center of the board. And a variety of small bowls and ramekins on the board if you like to build off them. These can be filled with olives, nuts or a dip for the final step.
Step 2: Add Cheese to the board. Cheese goes so beautifully with raw honeycomb we suggest nestling it up against the comb and around the small dishes.
Step 3: Add produce and crackers. This is the step where you add the final items that take up a lot of space on your board. We suggest also using a tall glass and filling with flatbread crackers. The height is dramatic! Fan out your sliced
Step 4: Add the meat. Add meat slices in a pile or place them fanned out in a line.
Step 5: Add the small filler items. By this point you probably don't have a lot of room on your board. Fill any empty spots with berries, dried fruits and nuts.
Step 6: Fill your small bowls with olives, nuts, dried fruits, berries etc.
Step 7: Garnish your board with flowering herbs if you like and add cheese knives and forks.
Regular price

Sale price

$19.00 USD

Unit price

per