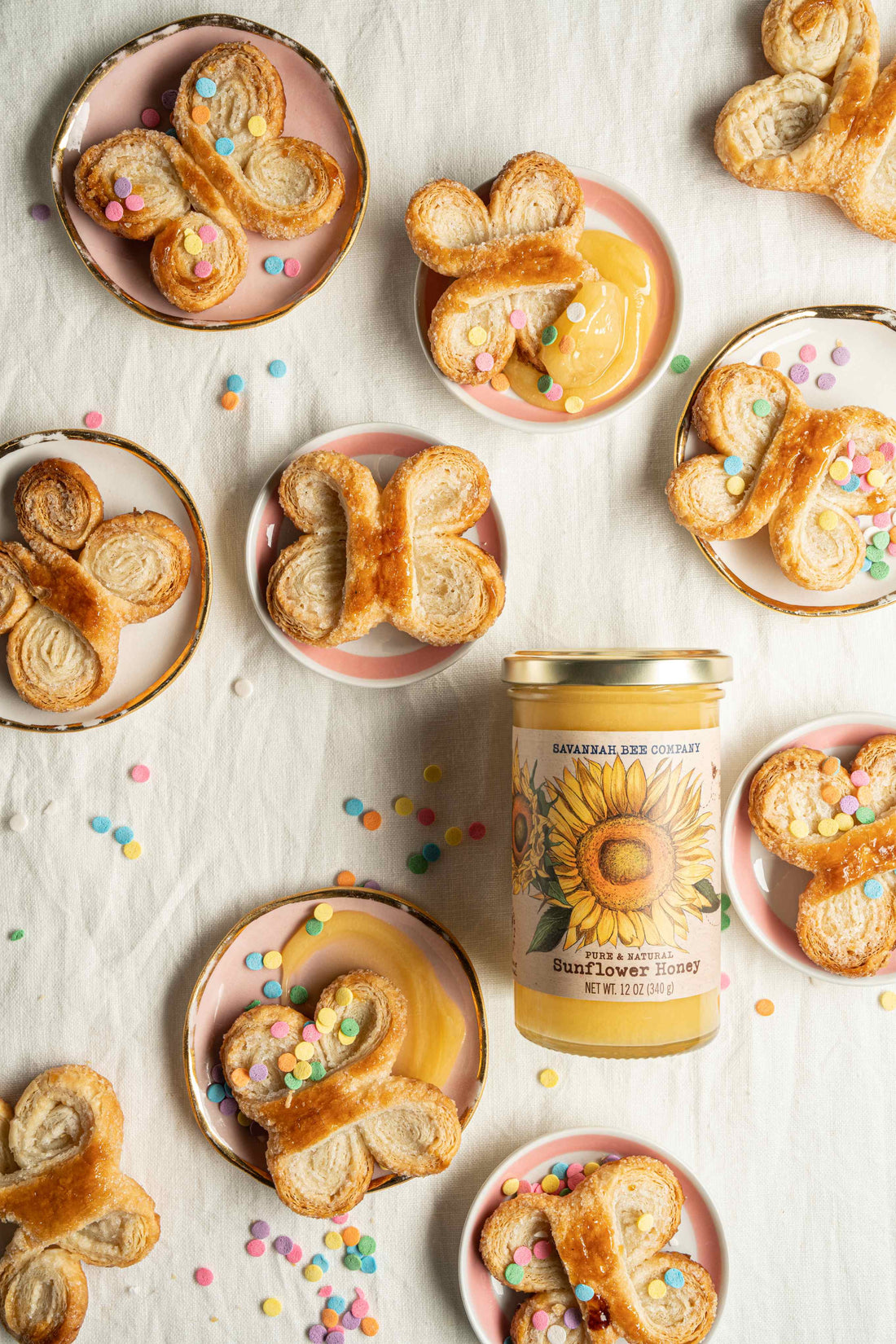 Cookies shaped like butterflies! We make these for the kids, but it's the adults who love them even more. These crisp palmiers are the crunchy, honey-kissed addition to your after-dinner ice cream or after school snack.

Butterfly Palmiers
(puff pastry cookies + sunflower honey)
Makes 16-20

What you need:
1 (17.3oz) package of puff pastry (2 sheets), refrigerated (not frozen)
2 cups sugar (you may not use all)
1/2 teaspoon kosher salt
Savannah Bee Company Sunflower Honey or your favorite Savannah Bee Company Whipped Honey
Sprinkles (optional)

What to do:
1. Wash Up!

2. Preheat oven to 450º F. Line two baking sheets with parchment paper and set aside.

3. Roll the puff pastry: In a small bowl, stir together the sugar and salt. Pour 1 cup of the mixture onto a clean work surface (countertop or cutting board). Unfold one sheet of puff pastry onto the sugared surface and pour ½ cup of the sugar mixture on top, spreading it evenly on the puff pastry. Using a rolling pin, roll the dough until it's 13 by 13-inches square and the sugar is pressed into the puff pastry on top and bottom. Fold the sides of the square towards the center so they go halfway to the middle. Fold them again so the two folds meet exactly at the middle of the dough. Then fold 1 half over the other half as though closing a book. You'll have 6 layers. Place the second sheet of pastry on the sugared surface, sprinkle with the remaining 1/2 cup of sugar mixture, and continue as above. Note: There will be quite a bit of sugar left over on the surface.

4. Slice and bake the palmiers: Using a knife, mark the dough in 3/4-inch increments all the way down the log, then cut through the marks to make individual slices. Holding the heart open-side-up, use a sharp knife to cut down the center of the pastry (as though you were going to make two individual palmiers), but only cut 3/4 of the way through the pastry. Carefully open the cut side of the pastry into "wings" and place, cut-side-down on your prepared baking sheets. Flatten slightly, if desired. Repeat with remaining slices being sure to leave 1-inch between each butterfly palmier on your baking sheet.

5. Bake: Bake for 6 minutes until caramelized and brown on the bottom, then turn with a spatula and bake another 3 to 5 minutes, until caramelized on the other side. Transfer to a baking rack to cool.

To Serve: Serve with a side of Sunflower Honey (The Happiest Honey in the World) or any of our whipped honey: Lemon, Chocolate, Pumpkin Spice, Cinnamon or Original! Sprinkle with colorful sprinkles for an extra touch of delicious fun if you are feeling it.
#savethebees
Regular price

Sale price

$22.00

Unit price

per