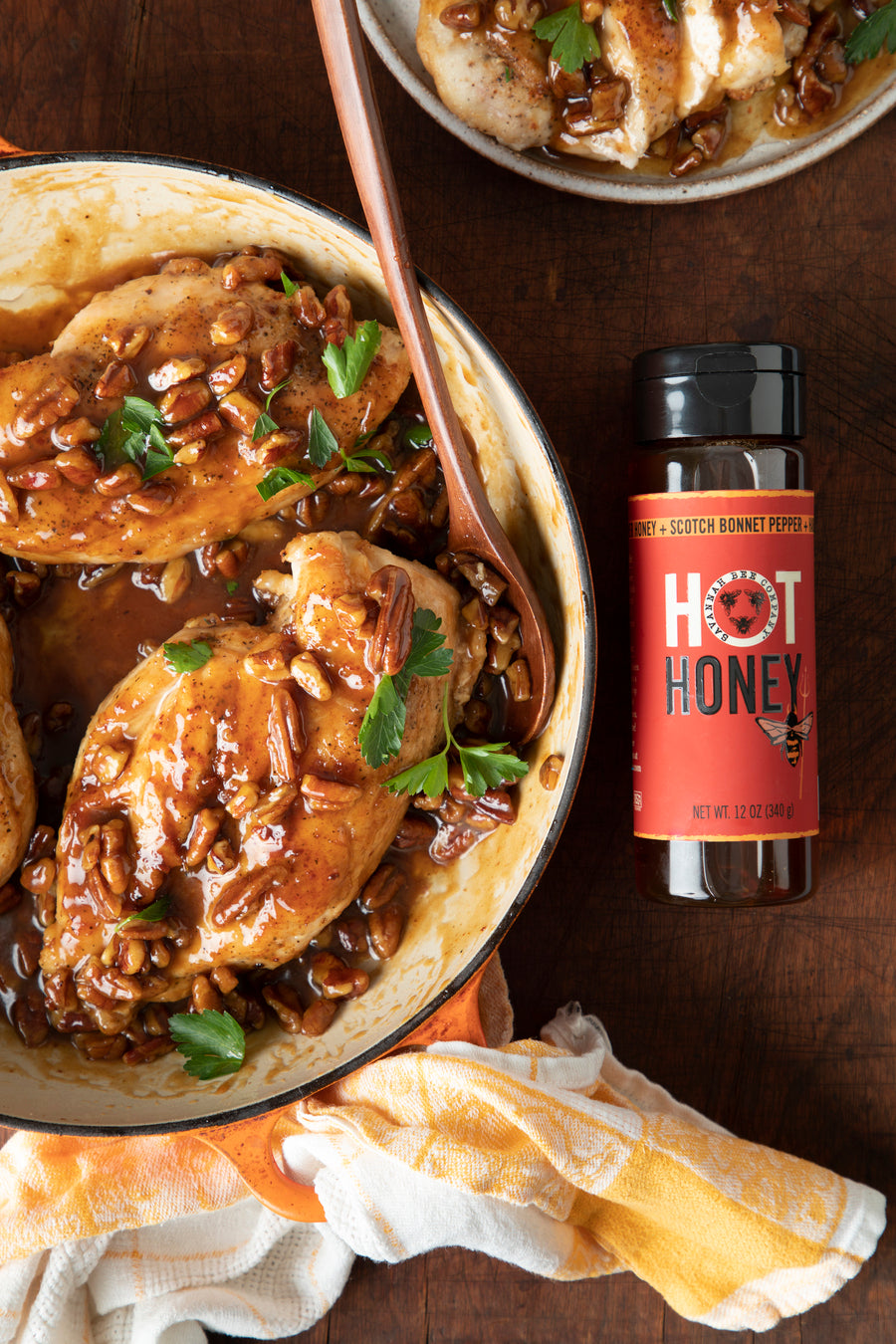 This dish has everything in it to satisfy whatever craving you may have. Salty, sweet, and slightly spicy from our hot honey, a praline pecan sauce crowns tender chicken. The best news? This dish comes together in less than 30 minutes.
Hot Honey-Pecan Chicken
(an easy weeknight crowd-pleaser)
Serves 4
What you need:
4 boneless, skinless chicken breasts
½ teaspoon salt
½ teaspoon freshly ground pepper
½ teaspoon garlic powder
1 cup all-purpose flour
2 tablespoons vegetable oil
¼ cup salted butter
1 cup coarsely chopped pecans
¼ cup Savannah Bee Company® Hot Honey, or your favorite Savannah Bee Company® honey
¼ cup chicken broth
1 tablespoon apple cider vinegar
Chopped fresh parsley, for garnish
What to do:
1. Wash Up!
2. Season the Chicken: Sprinkle the chicken with salt, pepper, and garlic powder. Place the flour in a shallow dish and dredge the chicken in the flour.
3. Cook the Chicken: Heat the oil in a large skillet over medium-high heat. Cook 5 to 6 minutes on each side or until the chicken is cooked through. Remove the chicken from skillet and keep warm.
4. Make the Sauce: Add the butter to the skillet and cook until melted. Add the pecans, honey, broth, and vinegar. Cook until the mixture is thickened and syrupy.
To Serve: Spoon the sauce over the chicken, and sprinkle with parsley.
Pro Tip: Pound the chicken to an even thickness, if needed. This helps the chicken cook more evenly.
#savethebees
Regular price

Sale price

$18.00

Unit price

per