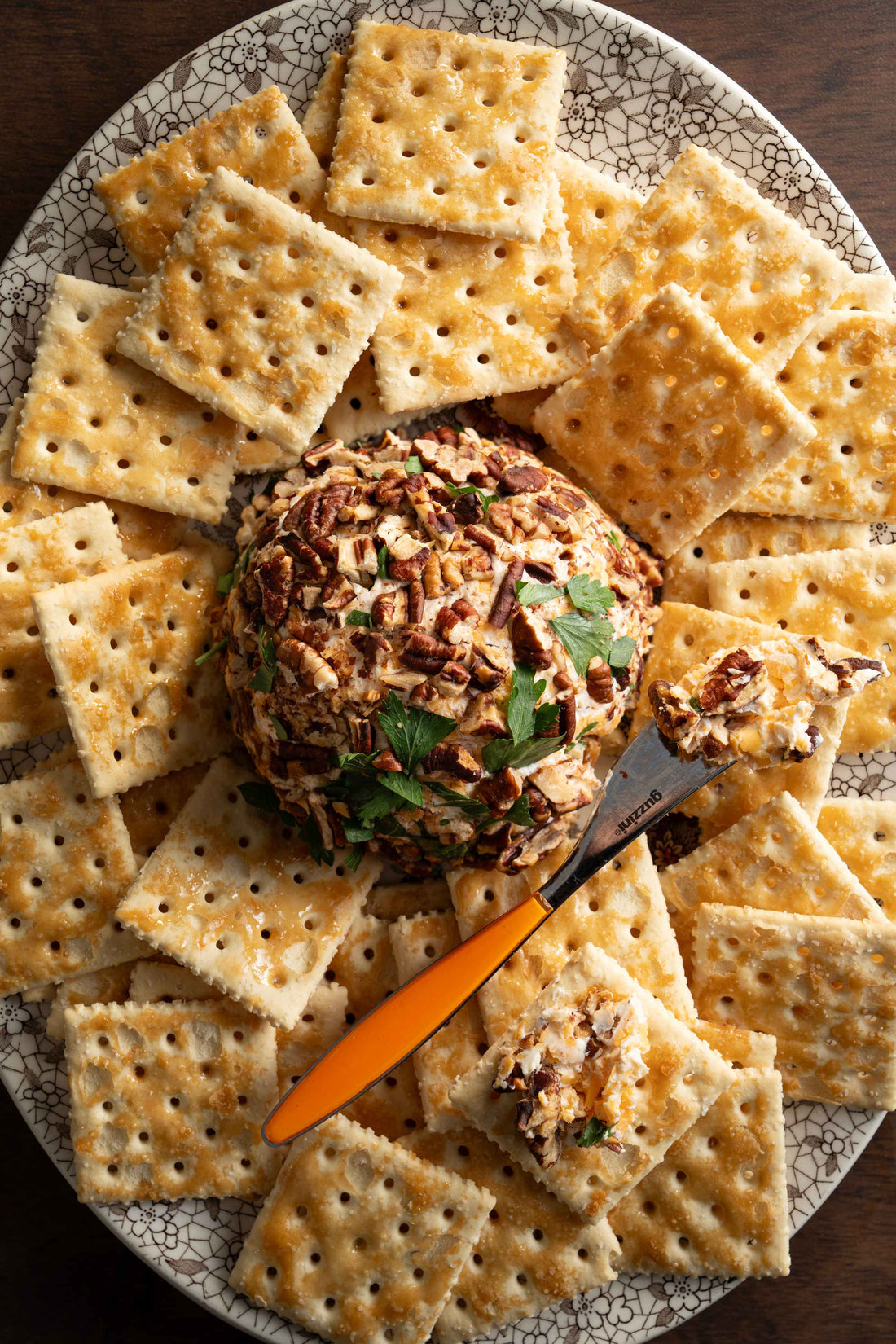 Everyone's gathered around the cheeseball! Sounds about right! We love a cheeseball with some HEAT to it, so we've fashioned this classic southern party dish with our favorite Honey Hot Sauce.
Spiced Cheese Ball
(herbs, nuts, spiced cheese + honey)
Serves 4-6
What you need:
1 bunch fresh parsley, finely chopped
2/3 cup toasted pecans
16 ounces cream cheese, softened
2 cups freshly grated sharp cheddar cheese (not the bagged stuff, break out the box grater)
2 green onions, chopped
1 teaspoon Worcestershire sauce
1 tablespoon Savannah Bee Company Honey Hot Sauce
1 teaspoon dried parsley flakes
1/2 teaspoon garlic powder
1/2 teaspoon dried oregano
1/4 teaspoon fresh-ground black pepper
Honey Crackers to serve (GET THE RECIPE)
What to do:
1. Wash Up!
2. Make the cheeseball: In a medium mixing bowl, stir together the nuts and parsley. Set aside. In a large mixing bowl, combine cream cheese, cheddar cheese, green onions, Worcestershire, honey hot sauce, dried parsley, garlic powder, oregano, and pepper. Mix well to combine and work into a ball. Using a light amount of pan spray or avocado oil on your hands, compress and shape the cheese ball. Roll cheeseball in the pecan and parsley mixture, covering all sides. Cover the cheeseball in plastic wrap and refrigerate for at least one hour to firm.

To Serve: Place in the center of your favorite serving dish and serve with Honey Crackers, pretzels, or crisp vegetables.

Table Talk: Can you name all 50 US state capitals? How many states have you visited?
#savethebees
Regular price

$15.00 USD

Sale price

$15.00 USD

Unit price

per