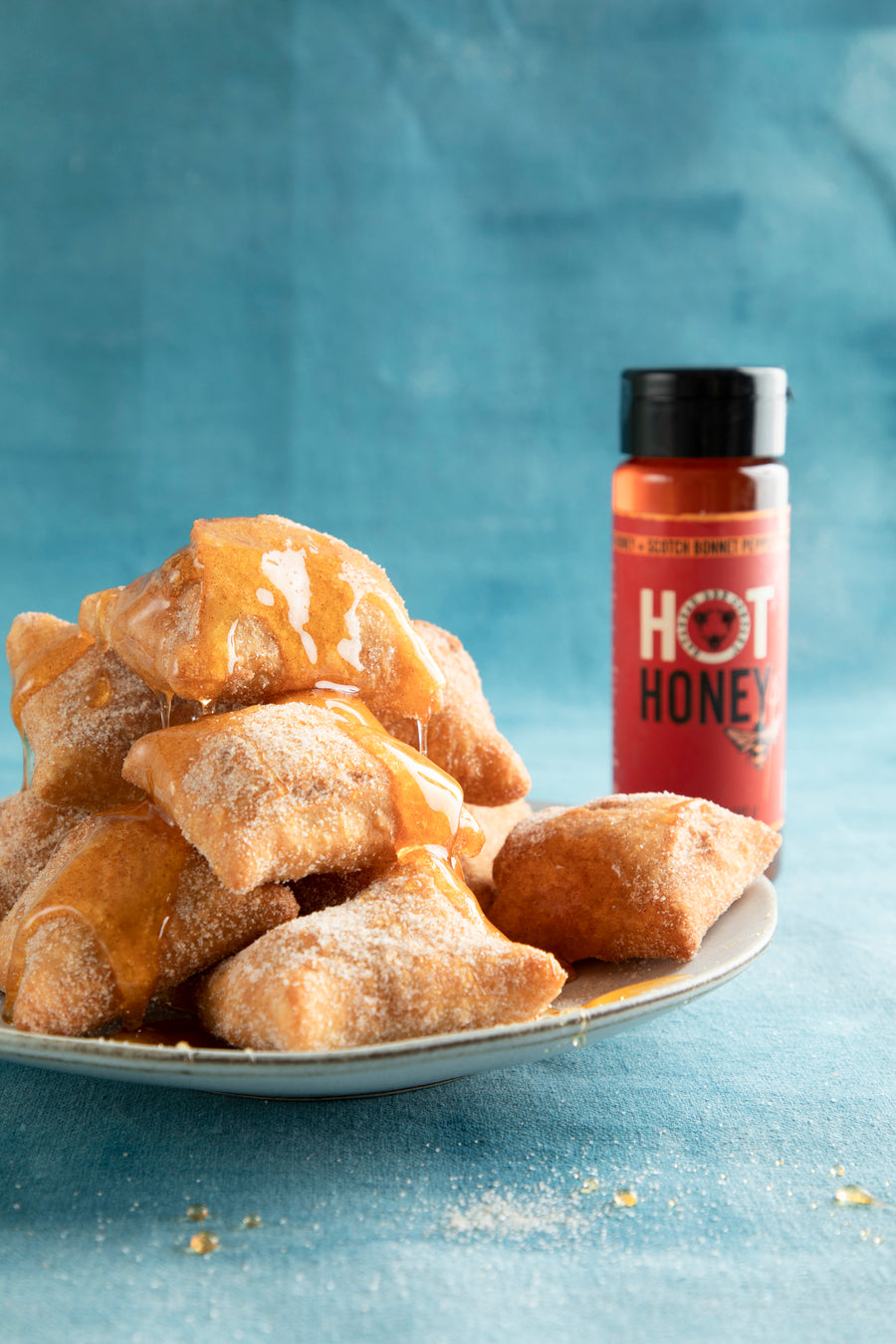 These puffy pillows of fried dough are delicious after a dusting of powdered sugar or cinnamon sugar and a dousing of our honey. All of our honeys are wonderful on this dessert, but we especially love hot honey.
Sopapillas
(a sweet treat from New Mexico)
Serves 12 to 14
What you need:
2 cups all-purpose flour
1½ teaspoons baking powder
½ teaspoon ground cinnamon
2 tablespoons salted butter, softened
¾ cup lukewarm water
Vegetable oil for frying
Powdered sugar or cinnamon sugar
¼ cup Savannah Bee Company® Hot Honey or your favorite Savannah Bee Company® honey for drizzling
 What to Do:
1. Wash Up!
2. Make the Dough: Combine the flour, baking powder, and cinnamon in a bowl. Mix in the butter. Stir in the lukewarm water until a dough forms.
3. Knead the Dough: Turn the dough out onto a lightly floured surface and knead about 5 minutes, or until the dough is smooth and elastic. Shape the dough into a ball, cover in plastic wrap, and let rest 20 minutes.
4. Heat the Oil: Pour oil to a depth of 2 inches in a heavy bottom saucepan or Dutch oven. Heat the oil to 375°F.
5. Finish the Sopapillas: While the oil heats, roll the dough to ¼-inch thickness. Cut the dough into 2-inch squares. Line a baking sheet with a wire rack covered in paper towels. Fry the dough, in batches, about 30 seconds per side or until the dough is puffy and cooked through. Drain on paper towels.
To Serve: Arrange the sopapillas on a serving platter and dust with powdered sugar or cinnamon sugar. Drizzle heavily with honey. Serve warm. 
#savethebees
Regular price

Sale price

$18.00

Unit price

per