Fried Goat Cheese Balls with Hot Honey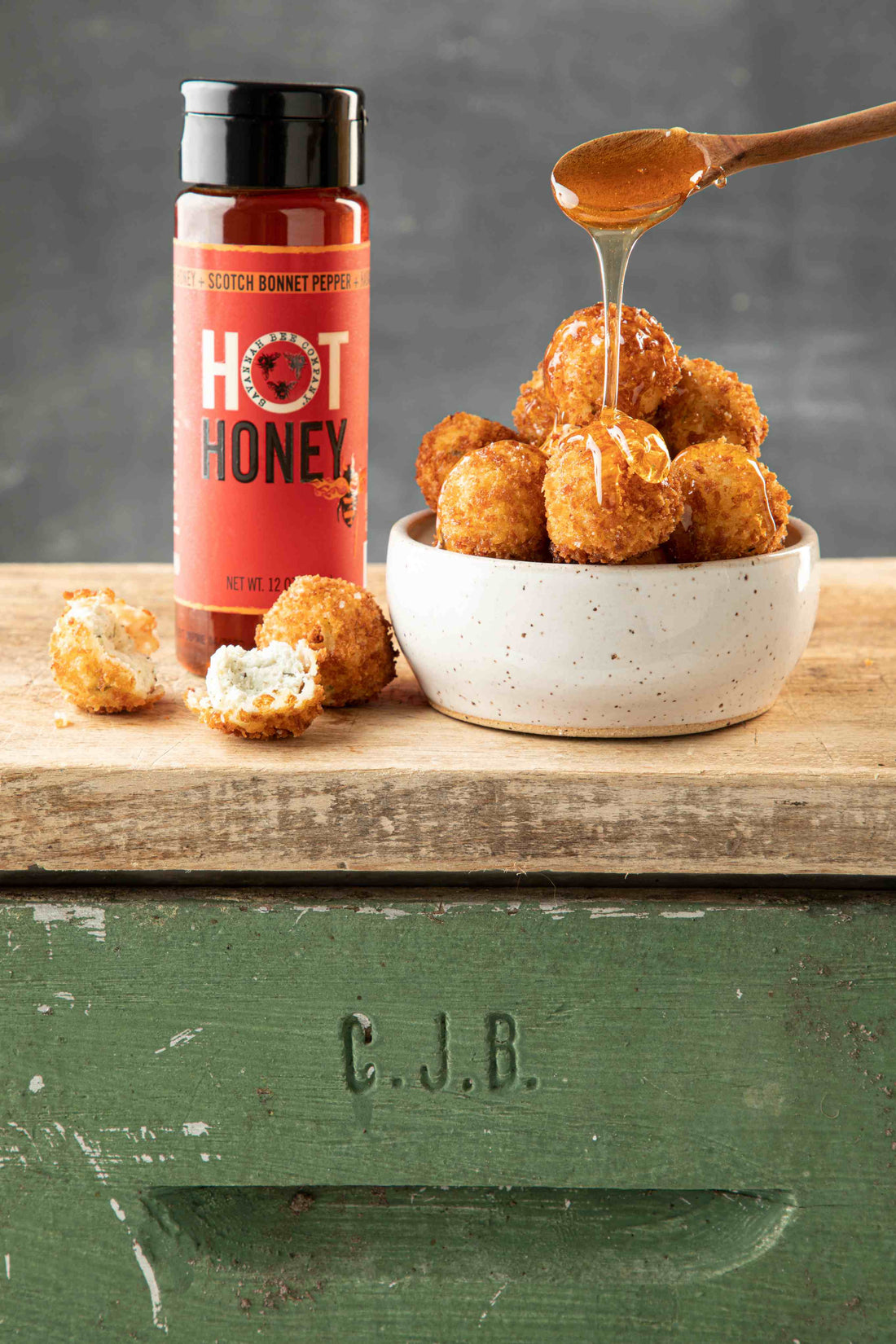 Watch these little fried cheese balls fly off the platter at your next get-together. A coating in crispy breadcrumbs give them the best texture and a drizzle of our hot honey is the icing on the cake.
Fried Goat Cheese Balls with Hot Honey
(crispy and creamy goat cheese fritters)
Makes 16
What you need:
Vegetable oil for frying
2 (4-ounce) logs goat cheese with garlic and herbs
½ cup all-purpose flour
2 large eggs
1 tablespoon water
1 cup panko breadcrumbs
Salt
Savannah Bee Company® Hot Honey for drizzling
Fresh herbs (such as chives and parsley) for garnish, optional
What to do:
1. Wash Up!
2. Heat the Oil: Pour oil to a depth of 2 inches in a Dutch oven and heat to 375°F.

3. Prep the Goat Cheese Balls: Cut each log of goat cheese into 8 pieces and roll into balls. Keep refrigerated.

4. Dredge the Goat Cheese Balls: Place the flour in a shallow dish. Whisk the eggs with the water in a separate shallow dish. Place the panko in a third shallow dish. Dip the goat cheese in the flour followed by the egg and then the panko, pressing to coat.

5. Fry the Goat Cheese Balls: Fry the goat cheese in 2 batches, 1 to 2 minutes or until browned and crispy. Remove to a wire rack to drain.

To Serve: Place the goat cheese balls on a serving plate and drizzle heavily with hot honey. Garnish with herbs if desired.
#savethebees
Regular price

Sale price

$18.00

Unit price

per