Beeswax Magic: The Many Uses of Beeswax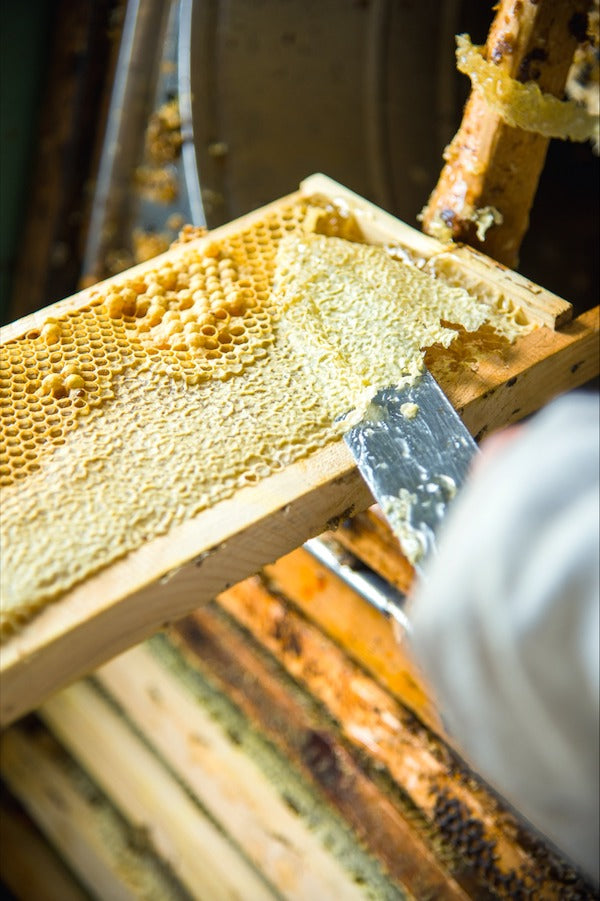 We know and love bees for many reasons, especially their sweet, golden honey and, of course, their pollination power. 
But if you need another reason, let us introduce you to beeswax! Beeswax is the natural wax produced by honeybees that they use to build their comb. 
When harvested, beeswax has countless uses, from enhancing your personal care to making household chores easier. Beeswax has been used in tons of different ways for thousands of years, making it a truly magical substance!
Spruce up your self-care.
After you add some beeswax products to your self-care, you won't go back.
It's packed with Vitamin A, which protects your skin and hair from environmental irritants to keep it healthy and glowing. 
Beeswax lotions and body butters are especially useful for gently protecting and nourishing dry skin, creating a natural barrier that locks moisture in.
Beeswax shampoo, which often comes in bars, does the same thing for your hair. The Vitamin A moisturizes and protects the hair, which prevents frizz and dryness. 
Beeswax soaps and facial creams are also wonderfully soothing products that are great additions to your self-care routine.
Take it on the go
It's super easy to take the healing powers of beeswax with you to work or out with friends. 
Beeswax lip balm softens your lips and seals in moisture (plus, the scent of beeswax is mild enough that you can still have a ton of different flavors, like peach, rosemary lavender, or earl grey).
Heel balm is like lip balm for your feet — the protective and softening properties of beeswax soothes dry, cracked skin and prevents water loss.
Itch relief sticks are a must-have, especially for those late summer nights around the bonfire or at a rooftop bar.
If you have a particularly difficult bug bite, a beeswax salve will protect the skin, preventing further irritation and helping the bite heal. 
Beeswax hand creams are another easy product to keep in your purse that will have all of your friends asking for a squeeze. They're rich and moisturizing, and smell absolutely divine.
Breathe in some sweet scents
Beeswax is the perfect way to introduce some new scents to your home or going-out routine. 
Beeswax itself is pretty mild, so it's a great carrier for essential oil, especially as the base of a candle.
But the subtle smell of beeswax also makes a lovely candle or wax melt on its own — it has a light sweetness that's not overpowering. 
100% Pure Organic Beeswax Candles
Plus, it's natural and unprocessed, making it one of the healthiest choices for candles.
If you're looking for something a little stronger, you might try beeswax absolute - a much more concentrated version of beeswax.
Beeswax absolute has a warm, honey, floral aroma with undertones of hay and wax, which makes it a great scent for candles or perfume.
Use it around the house
In addition to self-care, beeswax has a ton of practical uses, especially around the house.
Its protective properties make it a great natural polish for wood furniture, sealing it from moisture and sun exposure. 
Plus, it smooths and shines furniture for a little face-lift! Beeswax also works well as a lubricant for any sticky wooden drawers.
There are a bunch of small ways that beeswax can make your life a bit easier.
 A swab of beeswax on a zipper will make it less sticky, and coating thread in beeswax will prevent it from getting stuck while sewing. 
And if you're looking to jazz up your letter game, you can use beeswax to seal envelopes!
Get sustainable
One of the most sustainable ways to use beeswax is as an alternative to plastic wraps and plastic bags. 
You can use it to cover plates and bowls or wrap up leftover food.
Sustainable Food Storage - Bee's Wrap
It's easy to cut into different sizes for different purposes, and only requires a simple hand wash with gentle soap to clean. 
While most companies will sell sheets of beeswax wrap, some also offer beeswax baggies, which help cut down on the amount of plastic bags we use.
But ultimately, Beeswax offers so many ways to be sustainable! 
Beeswax is an environmentally friendly alternative to a ton of different products. It's natural, renewable and biodegradable, and beekeepers can easily remove it from beehives without impacting the colony. 
So the next time you're looking to buy a self-care product or trying to solve a pesky problem around the house, check out what beeswax has to offer!
#savethebees
Regular price

Sale price

$18.00 USD

Unit price

per