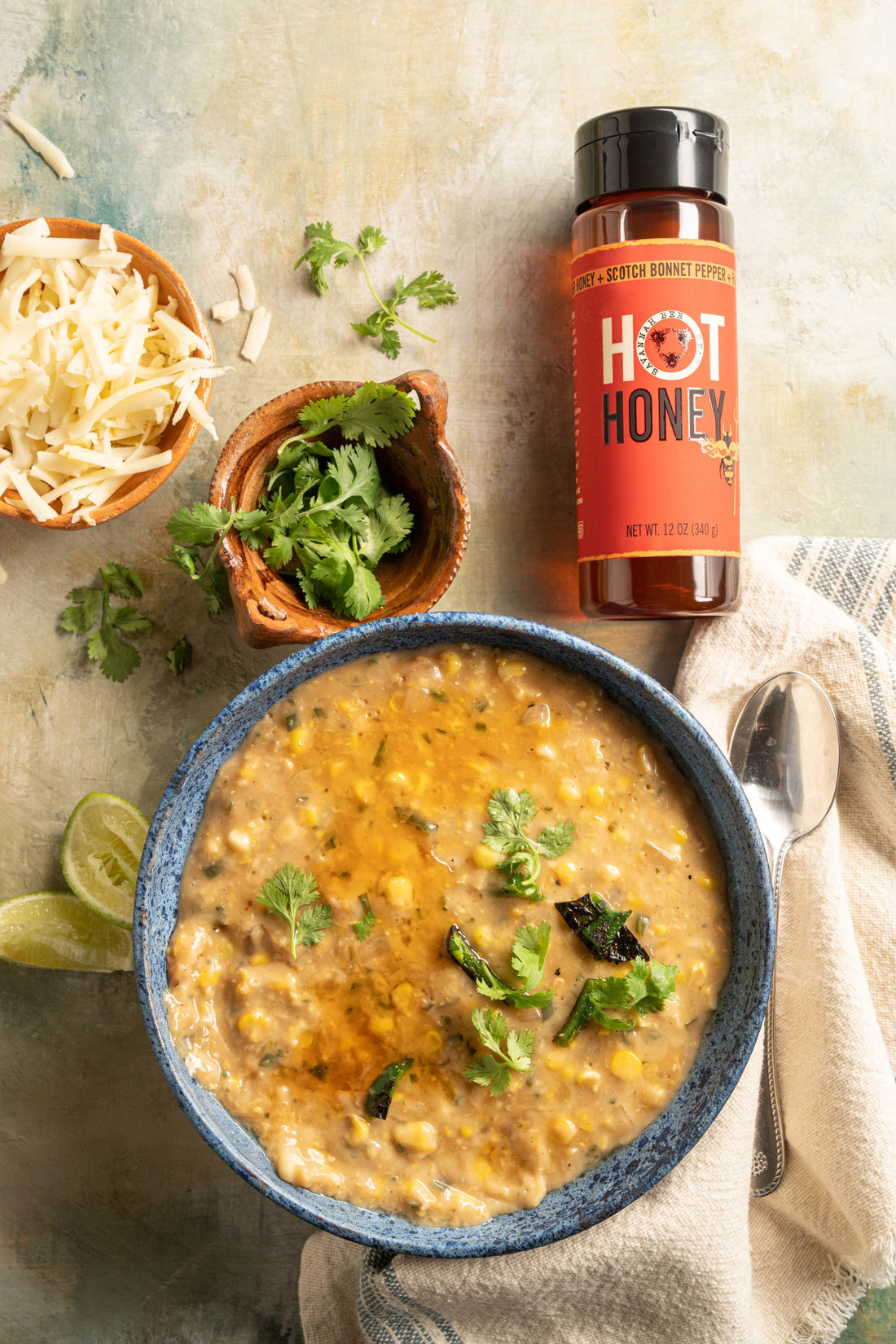 Wondering what to do with poblano peppers? This creamy corn soup is everything and gets its slight sting from our hot honey. Topped with cheese, cilantro, and tortilla chips, it's great as an appetizer soup or as a meatless main dish.
Spicy Poblano Corn Soup
(creamy corn + poblano pepper chowder)
Serves 4 to 6

What You Need:
2 tablespoons olive oil
1 yellow onion, diced
2 cloves garlic, minced
4 cups corn kernels (from about 5 ears of corn)
1 poblano pepper, seeded and finely chopped
3 tablespoons Savannah Bee Company Hot Honey plus more for drizzling if desired
1 teaspoon ground cumin
1 teaspoon kosher salt
3 cups chicken or vegetable broth
1 cup milk
3 tablespoons cornstarch
Fresh cilantro, lime wedges, shredded Monterey Jack cheese, and tortilla chips for serving
Savannah Bee Company Honey Hot Sauce for serving
What to do:
1. Wash Up!
2. Start the soup: Heat the oil in a Dutch oven over medium-high heat. Add the onion and garlic and cook until tender, about 5 minutes. Add the corn, pepper, honey, cumin, and salt. Cook until the corn is caramelized, about 4 minutes.

3. Finish the soup: Add the broth and bring to a simmer. Stir together the milk and cornstarch. Add to the soup and cook until thickened, about 3 minutes. Use an immersion blender and blend slightly if desired. Or place some of the soup in a stand blender and blend slightly.

To Serve: Divide the soup evenly between serving bowls. Top with desired toppings and drizzle with more hot honey or hot sauce, if desired.
Table Talk: How many varieties of chili peppers can you name in 10 seconds? GO!
#savethebees
Regular price

Sale price

$18.00

Unit price

per