Pumpkin Spice Honey Muffins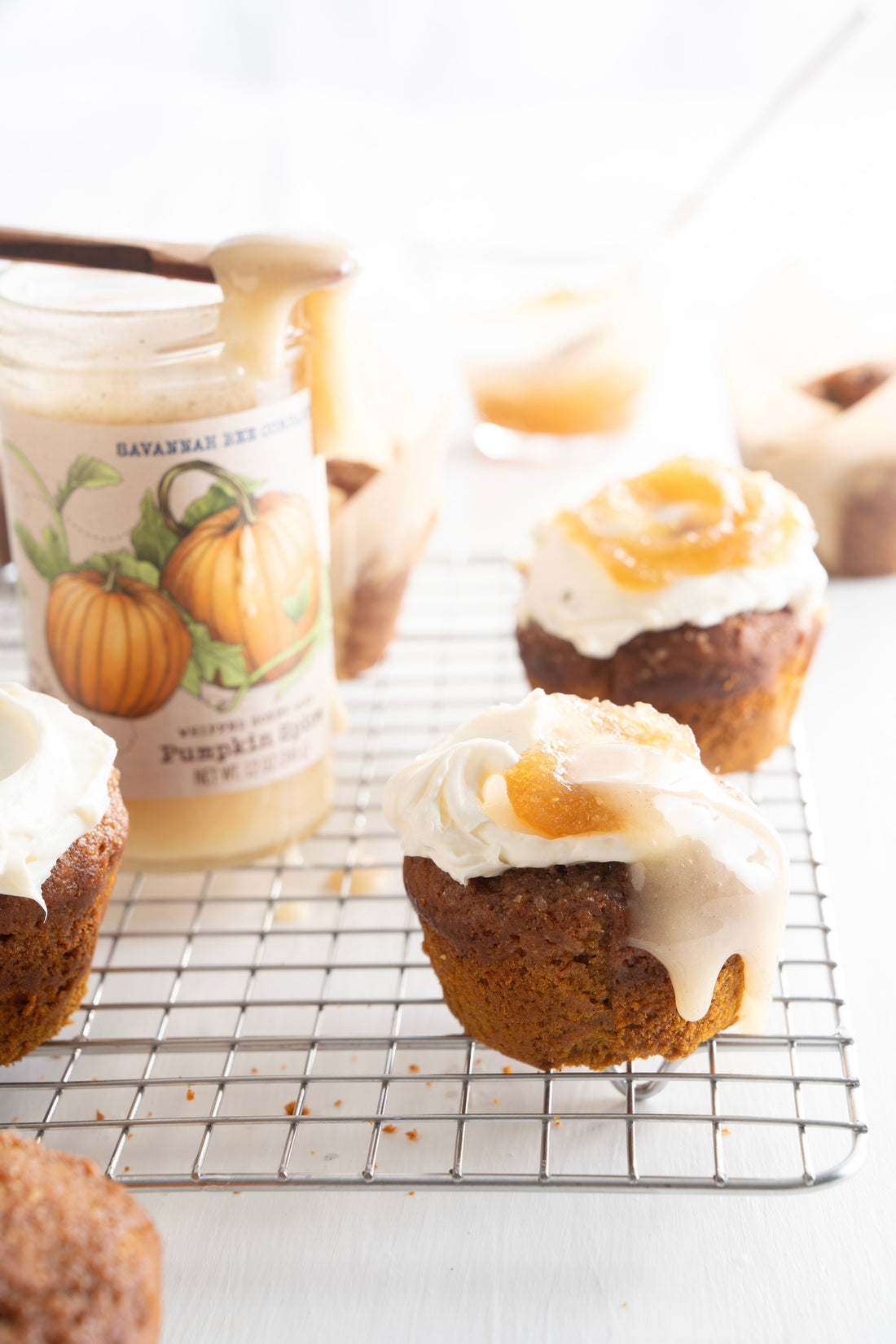 Fluffy and spicy pumpkin muffins usher in all the fall feels. These muffins are light and soft and a breeze to make. The heady scent of a pumpkin spice kitchen officially heralds the kickoff of the fall baking season.
Pumpkin Spice Honey Muffins
(pumpkin, spices + spiced honey)
Makes 12 muffins

What you need:
½ cup Savannah Bee Company Pumpkin Spice Whipped Honey plus more for serving
½ cup brown sugar
2 large eggs
15 ounces canned pumpkin
½ cup canola oil
¼ cup whole milk
2 cups all-purpose flour
1 teaspoon baking soda
2 ¾ teaspoons pumpkin pie spice
½ teaspoon salt
Cream Cheese and Apple Butter for serving (optional)
What to do:
1. Wash Up!
2. Preheat oven to 375°F. Line a 12 cup muffin tin with liners and set aside.

3. Make Batter: In a large mixing bowl, add Pumpkin Spice Whipped Honey, brown sugar, eggs, pumpkin, canola oil, and milk. Beat until well combined. In a medium bowl, whisk together the flour, baking soda, pumpkin spice, and salt. Add the dry ingredients to the wet ingredients and mix until combined.

4. Bake Muffins: Fill muffin liner with the batter until mostly full. Bake for 20-25 minutes or until an inserted toothpick comes out clean.

To Serve: Serve while they are warm with a dollop more of Pumpkin Spice Whipped Honey or room temperature with a schmear of cream cheese and a swipe of apple butter.

Pro Tip: Pull the eggs and milk a little early and leave out on the counter to bring them to room temperature for easy mixing
Table Talk: What smell conjures up fall for you?
#savethebees
Regular price

Sale price

$22.00

Unit price

per