Hot Honey BBQ Sauced Pork Ribs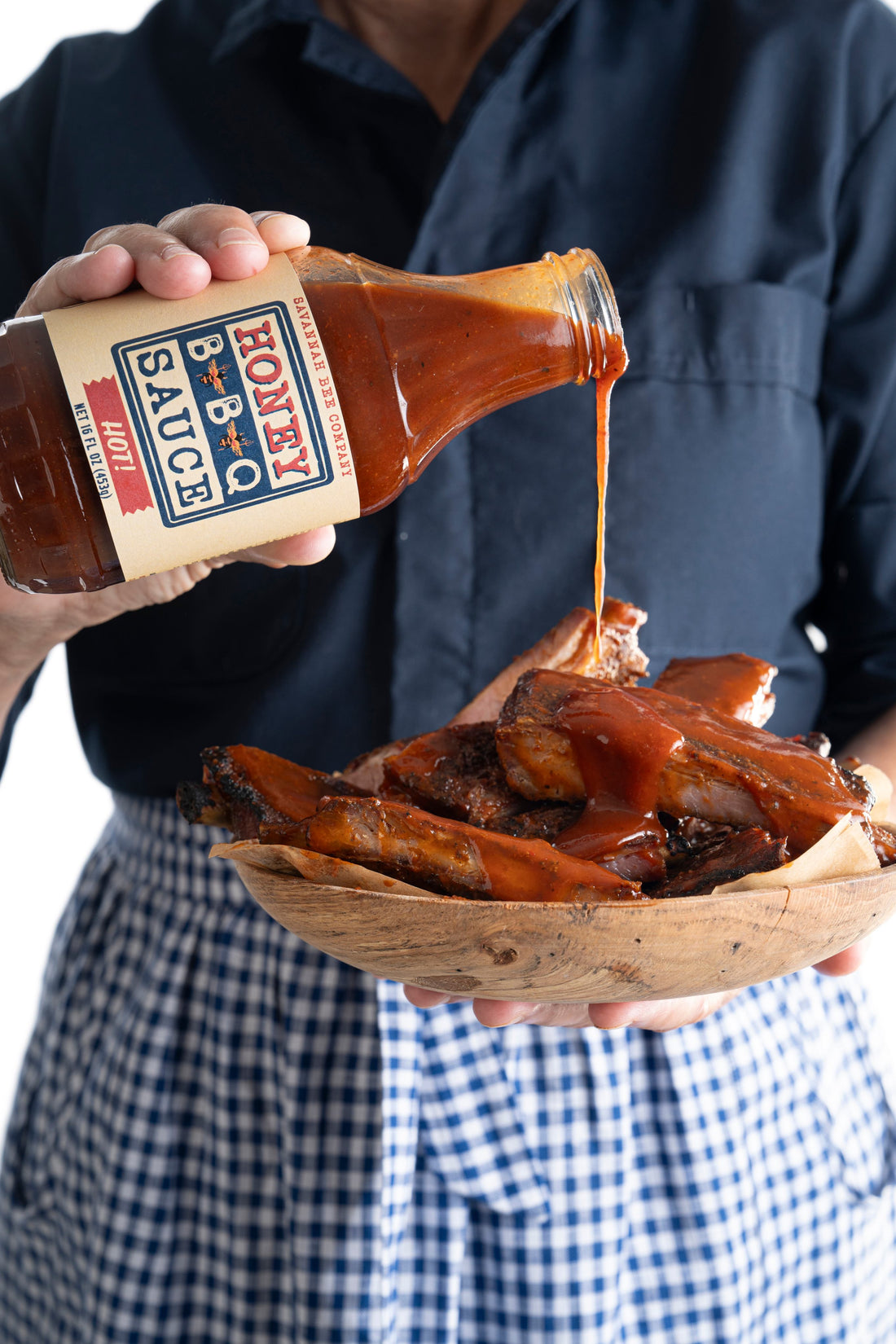 Fire up the grill (or the oven if the weather isn't nice) and cook these tender sweet and spicy ribs for your next get-together. Our Hot Honey BBQ Sauce adds the perfect amount of delicious heat that gets slathered on at the end of cooking.
Hot Honey BBQ Sauced Pork Ribs
(tender spiced pork ribs + Hot Honey BBQ sauce)
Serves 4-6
What you need:
For the Ribs:
2 (3- to 4-pound) racks baby back ribs
2 tablespoons smoked paprika
1 tablespoon salt
2 teaspoons onion powder
2 teaspoons garlic powder
1 teaspoon pepper
2 ¼ cups Savannah Bee Company BBQ Sauce –HOT (or use our sweet if you like less heat)

What to Do:
1. Wash Up!

2. Cook the Ribs: Preheat a grill or oven to 275°F (medium-low heat for the grill.) Remove the membrane from the underside of the ribs. Stir together the paprika, salt, onion powder, garlic powder, and pepper. Rub all over the ribs. Wrap tightly with aluminum foil and place on the grill or on a rimmed baking sheet in the oven. Cook for 2 hours and 30 minutes or until the ribs are very tender.

3. Finish the Ribs: Unwrap the ribs. Brush with the sauce. Increase the grill temperature to medium-high heat or preheat the broiler. If using the grill, grill 5 to 10 minutes or until the sauce is caramelized. If using the broiler, broil 1 to 2 minutes.

To Serve: Cut the racks into individual ribs. Serve with any extra sauce, if desired.

Table Talk: Ribs or Wings? Which one do you find messier?
#savethebees
Regular price

Sale price

$15.00 USD

Unit price

per