Easy Chocolate Mousse Pie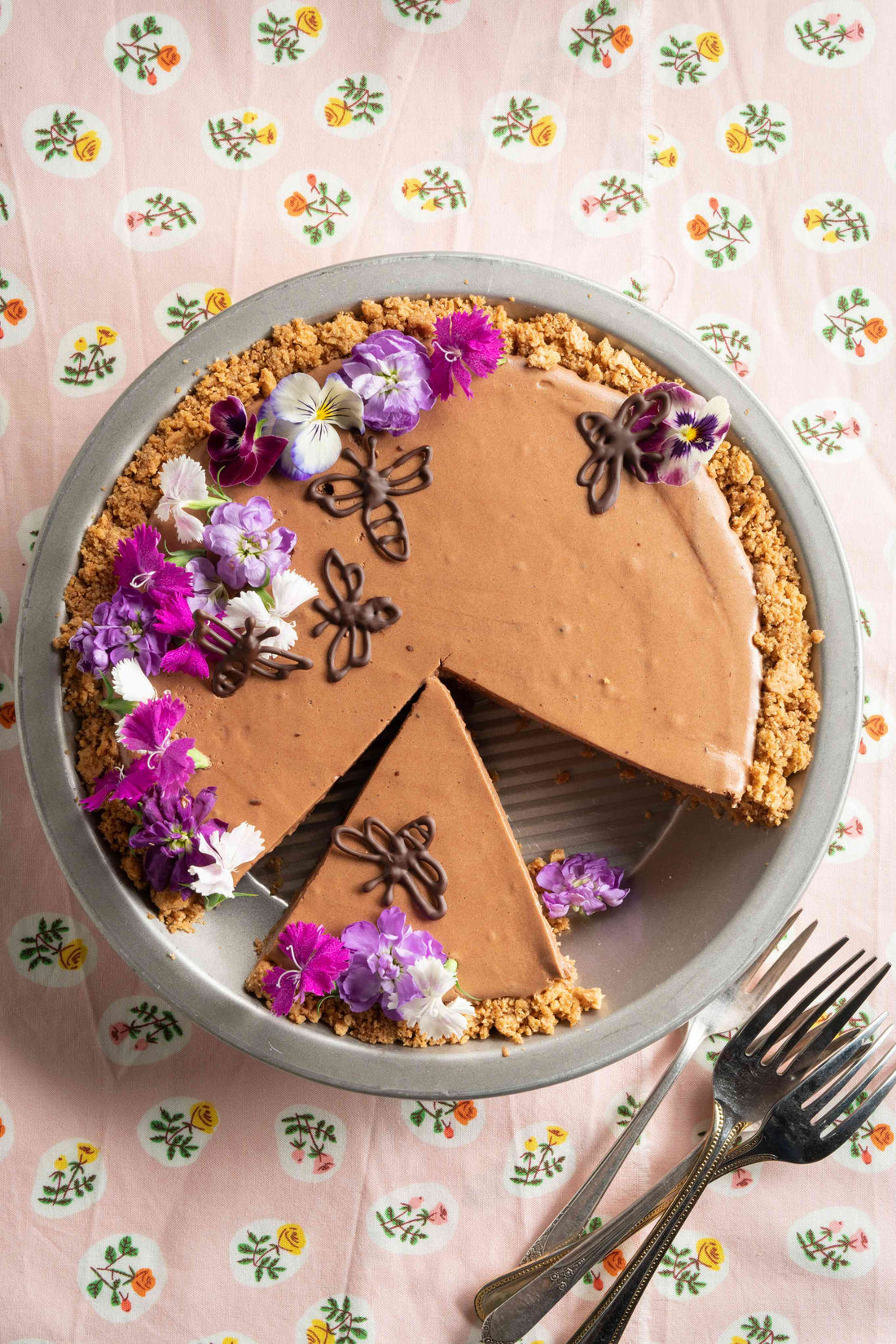 If this easy chocolate mousse pie doesn't make someone* fall in love with you, you're doing it wrong.

Easy Chocolate Mousse Pie
(dark chocolate, graham cracker crust + honey)
Makes 1 8-inch pie

What you need:
For the crust:
1 1/2 cups graham cracker crumbs
1/3 cup brown sugar.
6 tablespoons butter, melted
For the filling:
2 large room temperature eggs, separated
1/2 cup sour cream
1 cup dark chocolate chips
1/4 teaspoon sea salt
1/3 cup Savannah Bee Company Wildflower Honey or your favorite Savannah Bee Company Honey
Edible flowers for garnish, optional
Honey sweetened whipped cream for serving, optional

What to do:
1. Wash Up!

2. Preheat oven to 350ºF.

3. Make the crust: Combine graham cracker crumbs, brown sugar, and melted butter. Press the mixture into an 8inch pie plate. Be sure to press mixture all the way up the sides of the pie plate. Bake for 10-15 minutes. Allow to cool completely before filling.

4. Prepare the Chocolate: Bring a small saucepan of water to a boil. Place a larger metal bowl over the boiling sauce pan and begin to slowly melt the chocolate chips. Stir and smooth the chocolate with a spatula. As soon as the chocolate is smooth, remove the bowl from the heat (use hot pads!) And add your yolks, whisking vigorously. Once combined (it will look kind of like the chocolate has seized, but this is ok) return the bowl to the sauce pan and continue stirring for 30 more seconds until the chocolate forms a ball. Add sour cream and whisk until smooth.

5. Finish the pie: In the bowl of a standing mixer or using a hand mixer, whisk together egg whites and salt until soft peaks form. Add in honey and whip until soft peaks reform (about 4-5 minutes). Remove bowl from mixer and gently fold the whites into the chocolate mixture. Spoon the mixture into the prepared graham cracker crust and smooth the top. Place the pie in the refrigerator for a minimum of 3 hours or overnight.

To Serve: Serve cold garnished with chocolate honeybees, edible flowers and a dollop of honey-sweetened whipped cream.

Pro Tip! To make the chocolate honeybees that we created for this recipe image, we've made a traceable bee at the bottom of this recipe. Melt 1/4 cup of dark chocolate chips over a double boiler (or very slowly in the microwave. Be patient!) use a spatula to make sure it is smooth and let cool a few minutes until you can put the melted chocolate safely into a piping bag. On a small cookie sheet, layer the printed bees, then parchment paper. Trace the bees onto the parchment with the piping bag. Freeze the finished bees for 5-10 minutes until they release easily from the parchment. Place on your pie and pat yourself on the back for a job well done!
*We can't control who falls in love with you. But we assure you it'll be someone.
Regular price

Sale price

$17.00

Unit price

per