Crispy Baked Artichoke Sliders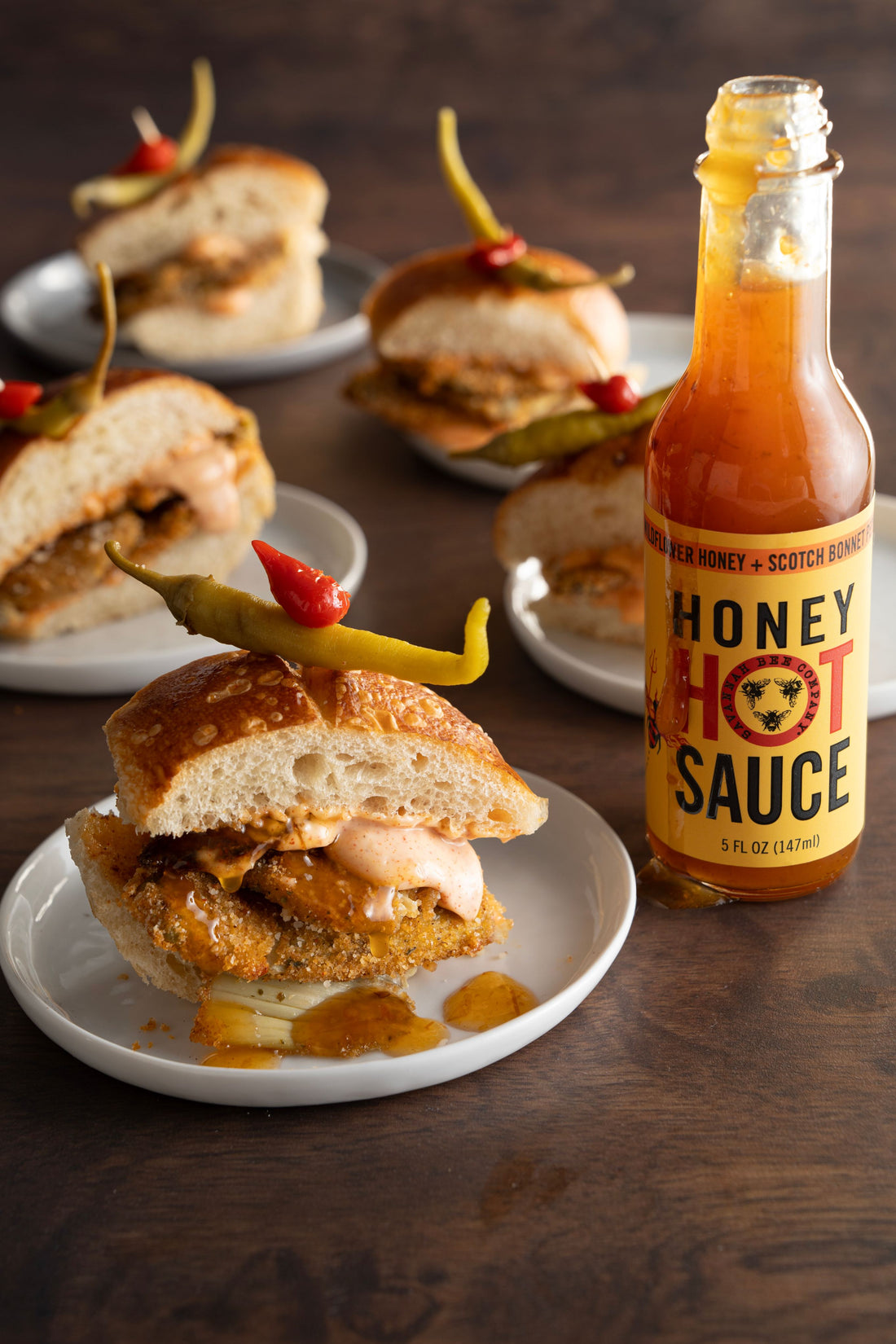 Apéro hour on a sandwich! Smashing the crispy artichokes after they have been baked makes this sandwich and easy one to eat and serve for your next party. The honey hot sauce mayo is the perfect kick!
Crispy Baked Artichoke Sliders
(artichokes, smoked paprika + honey hot sauce)
Makes 12 servings

What you need:
1 tablespoon Savannah Bee Company Honey Hot Sauce
1 cup mayonnaise
½ clove of garlic, grated
1 teaspoon lemon juice
2 teaspoons smoked paprika, divided
2 cans artichoke hearts, drained and dried
1 ½ cups panko breadcrumbs
1 teaspoon Italian seasoning
½ garlic powder
½ onion powder
Salt and black pepper
1/3 extra virgin olive oil
1/3 cup parmesan cheese, grated
Ciabatta rolls
Small, pickled peppers
What to do:
1. Wash Up!
2. Preheat oven to 425º F. Line a baking sheet with parchment paper and set aside.

3. Make the Honey Hot Sauce Aioli: In a small bowl, combine the Savannah Bee Company Honey Hot Sauce, mayonnaise, garlic, lemon juice, and 1 teaspoon of smoked paprika and set aside.

4. Make the Artichokes: In a medium bowl, combine the panko, remaining 1 teaspoon of smoked paprika, Italian seasoning, garlic powder, onion powder and salt and pepper and set aside. Pour olive oil in a small bowl and toss artichokes in the oil. Dredge the artichokes in the panko mixture and place on prepared sheet pan. Drizzle artichokes with more olive oil. Bake for 15 minutes and flip the artichokes over to their other side. Bake an additional 10-12 minutes or until the artichokes are golden brown. Remove from the oven. While they are hot, flatten artichokes with a spatula and sprinkle parmesan cheese on the top of each one.

To Serve: Cut ciabatta rolls in quarters and split the rolls open. Spread Honey Hot Sauce Aioli on both sides of roll. Add 1 or 2 artichoke hearts to each sandwich. With a toothpick, spear two pickled peppers and insert into the top of the roll to secure the slider.

Pro Tip: Check your grocery store's bakery section and see if they make ciabatta hot dog rolls. They are the perfect fit for the artichokes.

Table Talk: 10 seconds to name as many cities in Italy as you can. GO!
#savethebees
Regular price

$15.00 USD

Sale price

$15.00 USD

Unit price

per