Black Bean Tostadas with Spicy Avocado Mash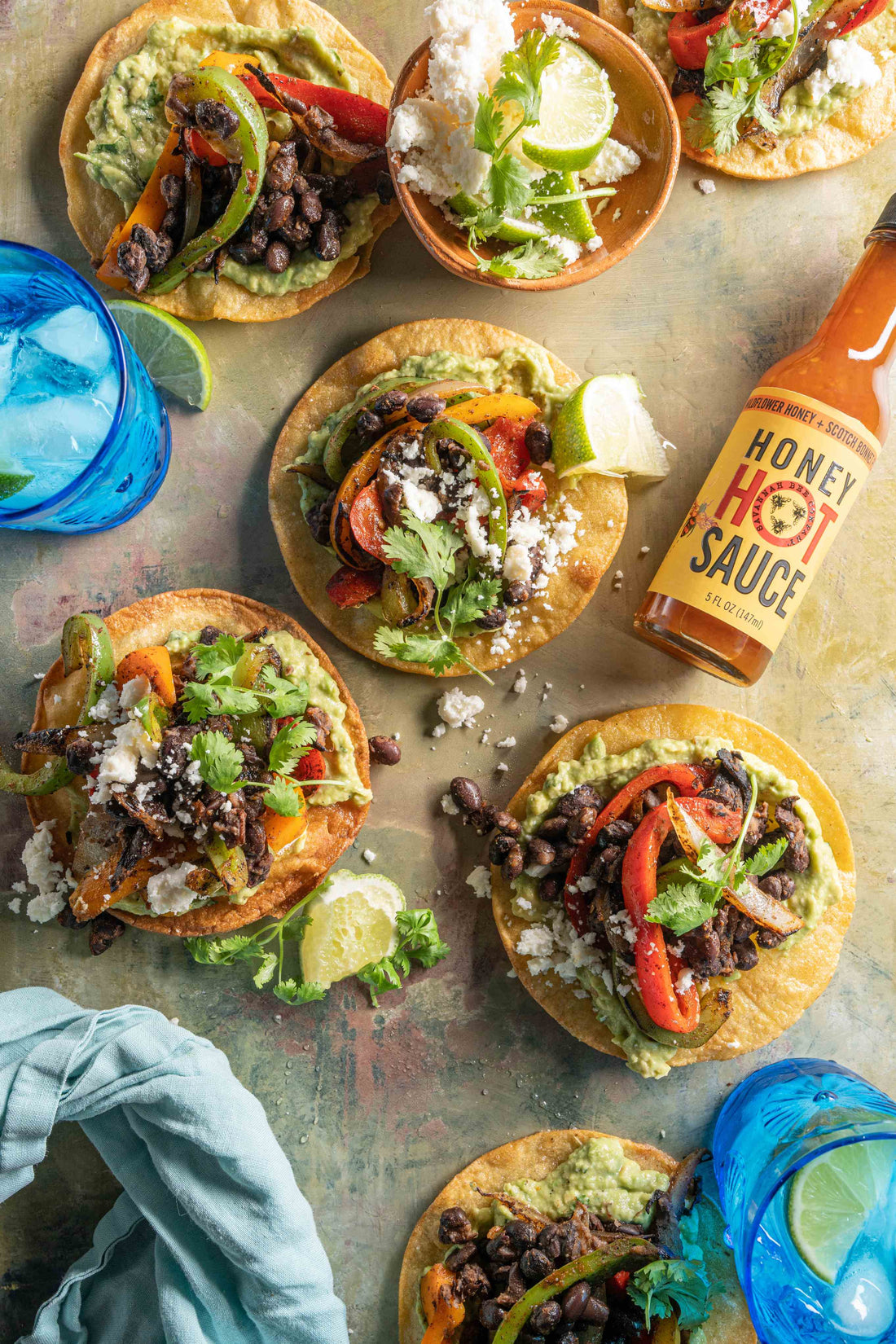 These black bean tostadas are the perfect meatless main recipe. A slightly sweet avocado mash, like guacamole, is the base for seasoned black beans, fajita vegetables, cilantro, and cotija cheese. We especially love adding a hearty dash of our honey hot sauce at the end.
Black Bean Tostadas with Spicy Avocado Mash
(black beans, seasoned vegetables + honey hot sauce avocado mash)
Serves 4
What You Need:
2 avocados, pitted
2 tablespoons
Savannah Bee Company Honey Hot Sauce
, plus more for serving
2 tablespoons lime juice
2 cloves garlic, minced
¼ cup chopped fresh cilantro, plus more for garnish
Kosher salt and freshly ground pepper
1 tablespoon vegetable oil
1 (12-ounce) package fajita vegetables
1 teaspoon ground cumin
1 teaspoon chili powder
1 (15.5-ounce) can black beans, drained and rinsed
8 tostada shells
1 cup crumbled or grated cotija cheese
Lime wedges for serving
What to Do:1. Wash Up!2. Make the honey avocado mash:
Place the avocados in a medium bowl. Mash with a fork or potato masher. Stir in the hot sauce, lime juice, garlic, and cilantro. Season with salt and pepper to taste. Cover the surface with plastic wrap and set aside.
3. Cook the vegetables:
Heat the oil in a large skillet over medium-high heat. Add the vegetables, cumin, and paprika. Cook, stirring occasionally, until the vegetables begin to brown and are tender. Stir in the black beans and season with salt and pepper to taste.
To Serve:
Spread the avocado mash evenly onto the tostada shells. Top with the vegetables, cotija, and cilantro leaves. Serve with more Honey Hot Sauce and lime wedges.
#savethebees
Regular price

$15.00 USD

Sale price

$15.00 USD

Unit price

per