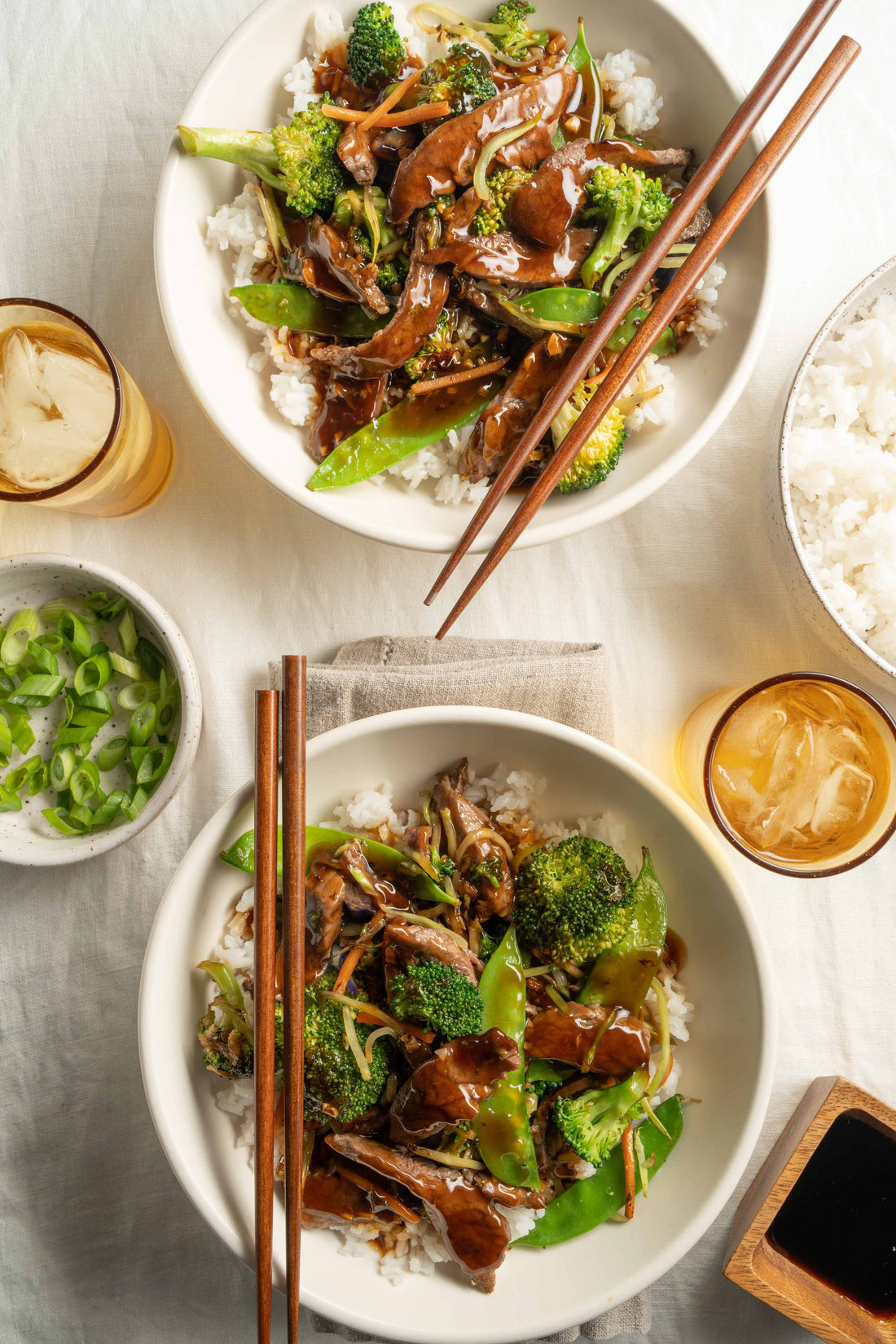 This easy weeknight meal features slices of flank steak, peppers and onions, and a sweet honey and garlic stir-fry sauce. Served over hot cooked white rice, it's a one-pan dinner the whole family will love.
Beef and Garlic Sauce
(flank steak, stir-fry vegetables + honey-garlic marinade)
Serves 4
What You Need:
½ cup Savannah Bee Company Saw Palmetto Honey or use your favorite Savannah Bee Company Honey
¼ cup soy sauce
2 tablespoons oyster sauce
1 tablespoon mirin
1 tablespoon water
3 cloves garlic, minced
2 tablespoons cornstarch
2 tablespoons vegetable oil, divided
1 pound flank steak, thinly sliced against the grain
2 (10-ounce) packages stir-fry vegetables
Hot cooked rice
Sliced green onion for garnish
What to do:
1. Wash Up!
2. Make the sauce: Stir together the honey, soy sauce, oyster sauce, mirin, water, garlic, and cornstarch in a medium bowl. Set aside.

3. Brown the beef: Heat 1 tablespoon of the oil in a large skillet over medium-high heat. Add the steak and cook until browned on both sides. Remove the steak from the skillet.

4. Cook the vegetables: Add the remaining 1 tablespoon oil to the drippings in the skillet. Add the vegetables and sauté until crisp-tender. Add the sauce and cook until thickened. Add the beef and toss to coat.

To Serve: Divide the rice and stir-fry between serving bowls or plates. Garnish with green onion if desired.

Table Talk: What is the oldest piece of cooking equipment you own and how did you acquire it?
#savethebees
Regular price

Sale price

$22.00

Unit price

per